To appreciate Ndutu, it helps to understand its history.
The lodge was originally created by George Dove – his portrait hangs in the dining-room, where his flamboyant waxed moustache rivals some of the trophy horns mounted on the walls! George had given up professional hunting at an early stage and chose the Ndutu area as a regular campsite. It was wild and remote, giving easy access to the Serengeti Plains for his clients.
During the 1960's, as tourism steadily increased in Tanzania, George Dove saw the need for a more permanent base in the area, and he was welcomed by the then Conservator of Ngorongoro, Mr. S. ole Saibull, who allowed him to build on the Ndutu site.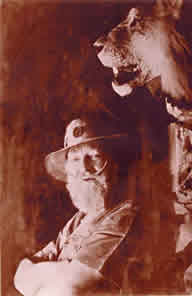 Thus in 1967, Ndutu Tented Camp, as it was then called, was born. The original concept was very simple; a central dining-room and kitchen, flanked by rows of sleeping tents on concrete foundations. It was built to last for five years, it was comfortable, but never luxurious, and certainly no-one foresaw that it would still be flourishing many years later.
However, the Camp quickly established a reputation for a friendly and welcoming atmosphere, good service, and simple food well cooked, and became a favourite stopping place for many different and interesting people. Several distinguished zoologists and photographers, such as Jane Goodall and Hugo van Lawick studied, filmed and wrote about wild dogs, hyenas and jackals in the area.
1974, George Dove and his family left Ndutu for wilder frontiers (the Australian outback) and the lodge changed hands. Soon afterwards came a slump in Tanzania's tourism that lasted several years, accompanied by formidable shortages of fuel and imported goods. Against challenging odds, the staff tried to uphold Ndutu's standards, but as the buildings and equipment deteriorated without being replaced, inevitable decline set in.
The Lodge was taken over in 1986 by the present owners who began the gradual process of renovation. The aim of the management is to use local materials only which blend in with the rustic surroundings. Comfortable and attractive stone cottages have now replaced the barrack-like rooms erected in 1976 to replace the original tents.
Ultimately it is the staff who make or break a lodge. Some of Ndutu's staff have been here since the beginning, many young newcomers have joined since. They live at Ndutu under difficult conditions and far from their families. We hope that their dedicated work adds to the enjoyment of your stay.
A selection of photos from the early years