True to our roots in scientific research Ndutu Safari lodge has a strong affiliation with the Korongoro People's Lion Initiative (previously part of the Lion Guardians programme) which was set up by Ingela Jansson in 2011.
Kope Lion employs local Maasai warriors titled Ilchokuti to act as protectors of their local pride of lions. The Ilchokuti  play an important role with the neighbouring communities including; ensuring that retaliatory lion hunts do not happen when livestock are attacked, tending to any wounded livestock injured by lions, educating and empowering the community on the benefits of maintaining lion populations in terms of tourism revenue and ecosystem management. The Kope Lion team also have a lion collaring programme which allows them to understand the movements and habits of each group of local lions thus helping to avoid future conflicts with the communities. The collars also help by being an early warning system of lions' presence and thus a way to keep both livestock and lions safer.
Through this partnership the lions of the Ndutu area are very well known to us, and we follow their stories and ever changing lives with great interest. Ingela welcomes photos of any lions you see in the Ngorongoro Conservation Area (NCA).  We recognise lions by their unique whisker spot patterns, ear notches and scars; close up photos are most useful if they include side shots of the lion's face.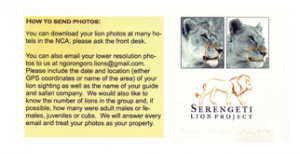 "Ndutu Lodge, my home away from home. I work with lion research & conservation in the area. At Ndutu lodge I have always been met with genuine and unwavering support and welcoming, as a friend and as a researcher. The owners and the full team that runs this place take a deep interest in, and concern for, the wildlife and the environment. It is very noticeable. No wonder guests returns here again and again. A good example of their support and flexibility was in late November 2014. On short notice the lodge provided full service with food, accommodation and classroom for us (19 conservationists, including the 10 newly hired Lion Guardians) during a 5-day training session. We are deeply grateful!  If our paths cross in Ndutu, feel free to chat lions with me. I'd love to hear about the lion sightings you had. Very likely I know who they were, and if not that's even more exciting." Ingela Jansson