We are well into the dry season, and we are watching with anticipation as we see the build-up of cumulonimbus thunder clouds building up to the north and over Lake Victoria.  Our iconic late afternoon campfire sundowners have been punctuated with booms and stunning bursts of lighting in the distance. The Scadoxus Lilies that signal the imminent rainy season are in bloom and we know, the rain is coming.
The wildlife is however stressed and there is a sense of anticipation of rain after months of dry grass and minimal water. Herbivores are congregating around any fresh water and predators are ever present.   We even had one pride of lions drinking from the puddles forming around our freshwater storage in camp.
Despite the dry season, the lions are looking in great shape and we continue to make a concerted effort to study their behaviour and movements through our partners (www.Kopelion.org).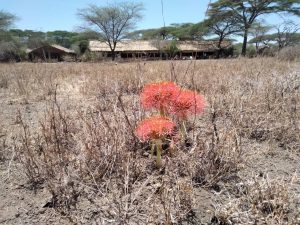 The dry season has traditionally been our less busy season but this year the summer months have seen a steady stream of visitors and researchers as people resume their travel after COVID but they also see the value of the Ndutu area during this period. For years now we have referred to our dry season as 'Predator Season' quite simply because our incredible numbers of resident predators remain all year round and during these dryer months, when the area is wonderfully quiet, you can enjoy sightings of mothers and cubs entirely to yourself. We are less crowded than the Seronera area of the Serengeti and in the NCAA you can drive off road to take advantage of being away from everyone.   All of this topped with our reduced predator season rates makes Ndutu a great choice for those in the know!
Over this past dry season we have continued to use our time wisely to renovate the rooms on the southern side of the lodge.   We have raised the room ceilings to give a feeling of space and modernised the bathrooms for a cleaner simpler look.   We hope you also notice the subtle colour and lighting changes in the bar and dining area, none of which changes the essence of the traditional Ndutu of old but adds a touch of freshness for those who are regular visitors to see us.
When you next visit the lodge, please say hello to some of our interns.   These are local tourism and hospitality students, gaining valuable experience in an operating establishment, rotating through the dining room, kitchen, bar and reception. This year we have made a concerted effort to ask for female trainees as Ndutu needs to move towards representing all demographics to allow this in what has been a male orientated industry in Africa.   We have been conducting gender awareness training and modifying our staff accommodation to accommodate more women on our team.  
Notable research visitors over the last few weeks have been:
Anna Czupryna who is researching Rabies elimination strategies at the University of Glasgow
Anna Estes on the Board of Kope Lion who was running some student training from the lodge
Ingela Jansson and Sally Capper also joined us from the Kope Lion team continuing their important research in the area
Sarah Durant who runs the Serengeti Cheetah Project
As many of you will have experienced first-hand, our guests potentially get the benefit of meeting these amazing researchers and conservationists, who have traditionally used Ndutu as a base, thereby deepening their understanding of the challenges for communities and conservation. 
We also had the pleasure recently of hosting Karatu Secondary School on their annual field trip. Everyone had a great time and enjoyed a really productive visit. 
Of course, plenty of clients who have come to Ndutu many times realise the value Ndutu offers to the discerning traveller during the dry season.   We thank all those regular clients and some of our very loyal local and overseas private guides who keep coming back for more!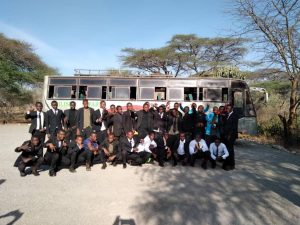 We had another extraordinary visitor recently, a baby leopard cub, which was left by its mother for safe keeping between the manager's office and the stores building. Thankfully the mother came and retrieved the cub the following day but it is nice to see we have new baby leopards in the area.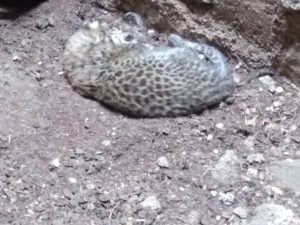 As we plan for a future beyond the COVID epidemic we are also proud to announce our plan to transition the lodge to 100% solar energy.   Implementation is progressing well with the hope that we will switch off the diesel generators in May 2023.   As well as finally giving us 24 hour electricity which many people have commented about – this initiative will further reduce our carbon foot print which is something which has always been very dear to us at Ndutu.
As we start to head towards the festive period and nudge towards migration season, we wanted to take the opportunity to wish you all a very happy time over the coming weeks and we look forward to welcoming you back to Ndutu in 2023!