It is as if the previous Newsletter went out just yesterday! And short of being repetitive, I will just try and fill in the highlights over an almost four months' period.
Our last rain shower was on May 28th and until September 24th, apart from two negligible drizzles (0.2 and 0.4 mm), we had a 78 day non-stop dry period until the first shower arrived!
Given that we are now almost at the end of the very hot dry season, it never ceases to amaze me how our local animals manage so well. The gazelles look healthy, even the elephants and giraffes seem in good shape.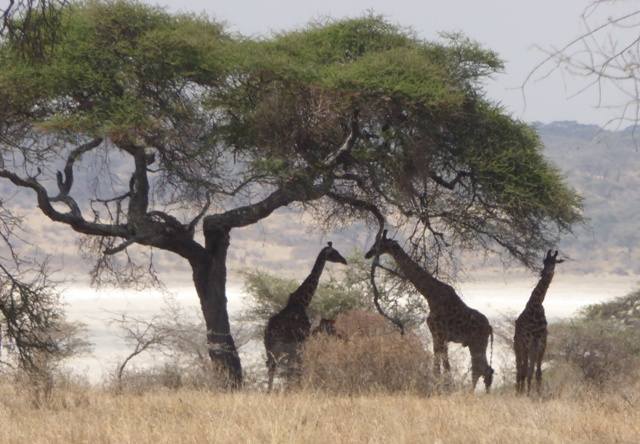 The cats appear to suffer most, of course, with the available prey diminishing as the dry circumstances continue.
The most important change this year is that the NCA Authorities have managed to persuade the Maasai to limit their cattle movements in the Ndutu area during the dry season. After many years of serious encroachment problems, the area is now left to the resident animals, offering them refuge, food and uninhibited access to the vital water resources of Big Marsh, Small Marsh and Long Gulley. This makes a huge difference to the flora and fauna, and it also greatly improves the wildlife experience of the tourists.
A highlight was the solar eclipse on September 1st  , which as it turned out, proved to be a clear case of "Sod's Law"! Although Ndutu was not within the total area covered, it is always such a special experience. However, after an uninterrupted five-week period of clear, cloudless skies every morning, we woke up to see a cloud-covered sky, with an occasional hole towards the blue beyond. Although we did manage to follow the entire magic performance through intermittent cloud cover, it was a very frustrating exercise!  And, to add insult to injury, the next morning and the week thereafter the sky was again as clear as a bell.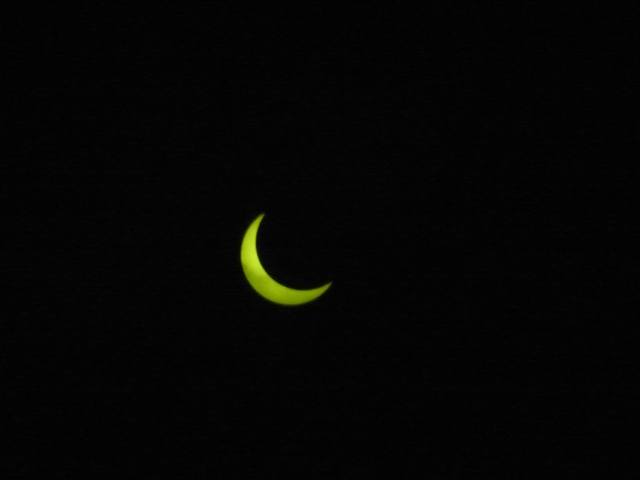 At the moment, as the Scadoxus lily is starting to wilt and turn to seed, we look forward to more exciting rains and thunderstorms in the beginning of November, bringing back life and movement "from the North" to our part of the Serengeti ecosystem.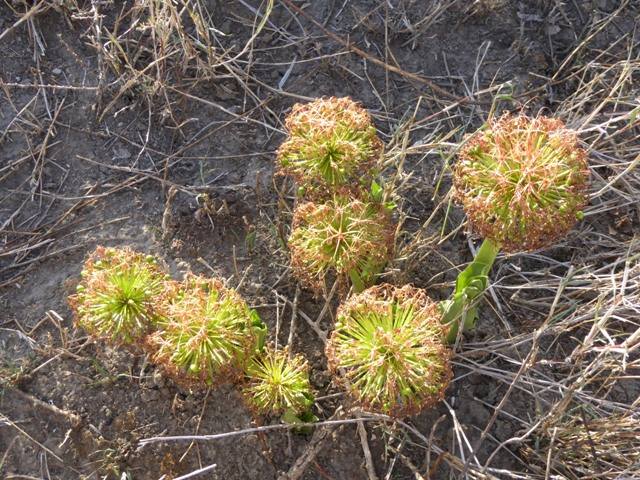 Still, one can find flocks of Fischer's lovebirds in search of water, like the other morning when they were trying to find some moisture on top of the roof of my Landrover!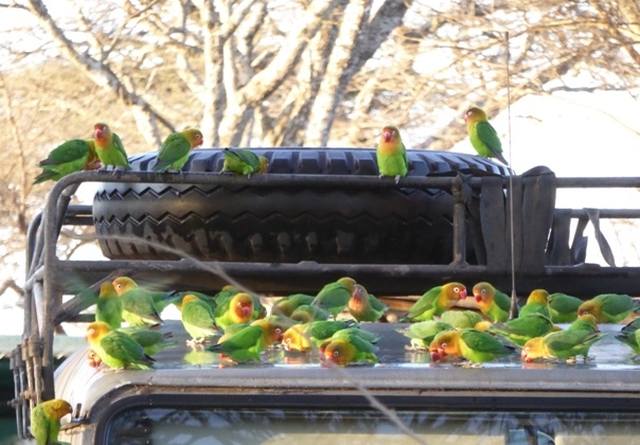 You may well sigh, not photos again of the birdbath users,
…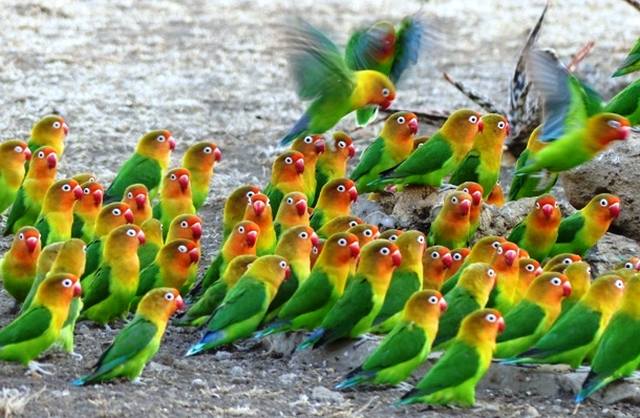 …but the splash of beautiful colours never ceases to impress the guests during breakfast. Anyway, sometimes with a bit of luck, a few un-bird-sized visitors arrive in search of water which provides even more entertainment.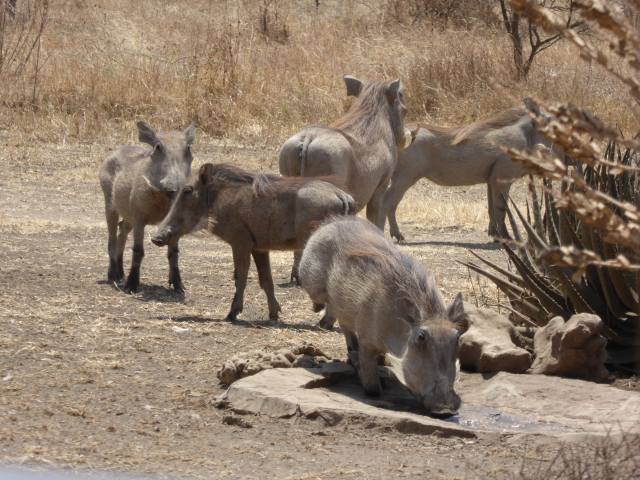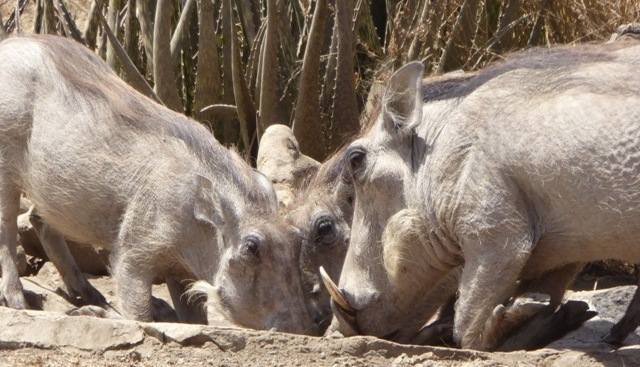 For the lions at Ndutu, as the seasons progress, prey species mostly change from zebra and wildebeest to resident buffalo and giraffes. Not to mention, of course, the occasional Maasai cow, readily available especially in the Lake Masek and Twin Hills area.
The Lion Guardian Programme has helped tremendously to bring down the lion killings, even though the resident populations are still prone to reverse attacks. The Twin Hills pride, in particular, has become champion in avoiding the herds of cows, sheep and goats that take over the area this time of the year. With radio collars now fitted, Ingela, who is in charge of the Programme, can show the fascinating and intricate movements of that pride, which operates entirely in enemy territory as it where.
Sadly, one of the nucleus of our Marsh pride lionesses, Spot, was probably killed by one of her own kind not long ago. She was an elderly lady and was found near Big Marsh with two strange, nasty looking invading male lions who seem to have since retreated again. Remus and Romulus are still seen there, so we hope they remain in charge of that prime area for the lions.
The other day, the Masek pride disturbed most guests' early morning snooze around five when they attacked one of our resident male buffalos right in front of the lodge and managed to kill it. As people woke up and watched from the front of the lodge. They spent two days finishing off this good meal, gradually more and more surrounded by jackals and hyenas.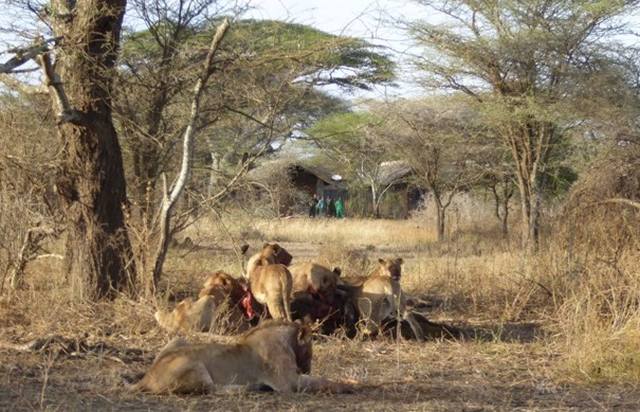 The cheetahs are doing well. Females and cubs are seen regularly and, somehow, there are always a few gazelles around to sustain the youngsters through the dry season.
A resident leopard has managed to kill at least three of our – I must admit – rather populous dik-diks: twice a kill in the car park, and once in front of the lodge.
We have had irregular visits of elephant around the lodge, mostly one or two bulls. One knows his way around so well, sneaking in under the cover of darkness to the houses in the back, where rainwater tanks are in situ. They pose a trial to our patrolling night watchmen, who try to safeguard the vegetation near all the guest buildings, and the back-up drink water tanks.
Elephants know exactly what grows where and return to specific trees.
Over the past 40 years I have become aware of this and found out the hard way. Invariably, however, just when I think my gardening passions win they put me rudely back in place!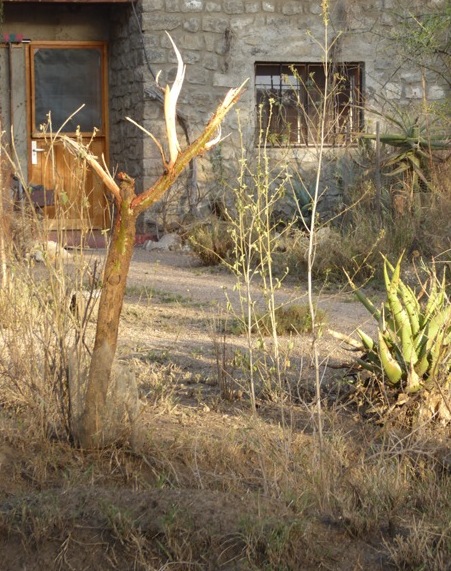 Be it elephants or a group of banded mongoose, many creatures are ready to help me in my bush garden.  One would assume that after a third or fourth time of discovering yet again a "demolition" tree early in the morning or a small field of holes in the ground, one would get the message.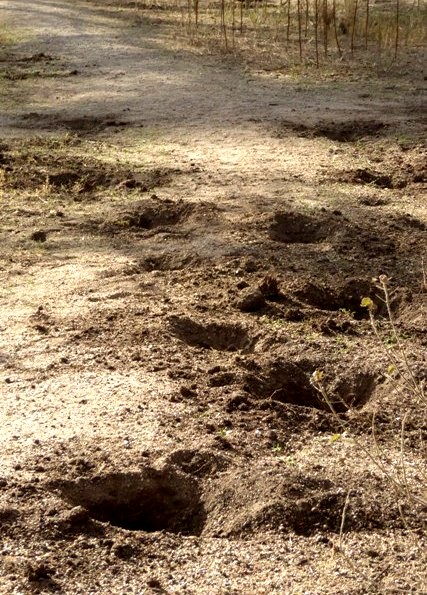 Ludovic and Leonie's rather exhausting son and wife are still driving Ainslie to distraction, banging her front window for hours. Now that she is away in New Zealand and the curtains are drawn, both birds have focussed their repetitive behaviour back to my house and more in particular my Landrover.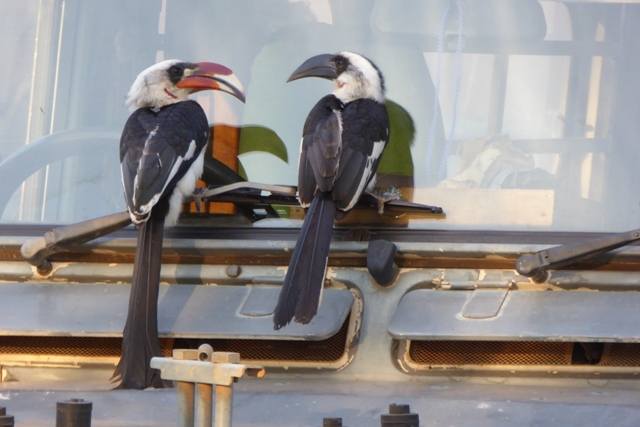 Be it the front windows or the side mirror, at all times of the day, we spend hours hammering away at one another's reflection!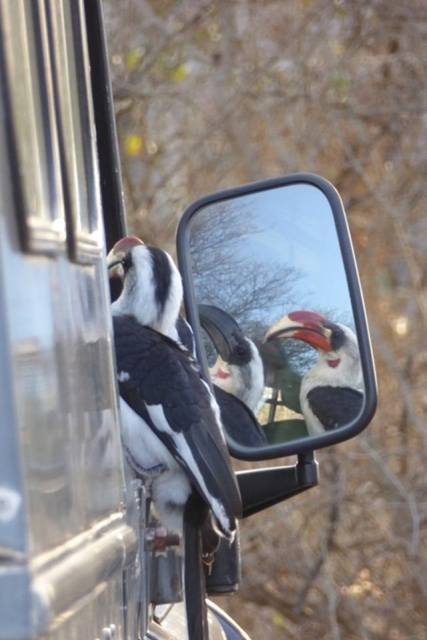 Our team of builders have gone flat out these past two months as we are re-doing the interiors of our rooms. Ceilings are being lifted, light fittings improved, shower floors made less slippery, some roofs re-thatched, in short a hive of activity.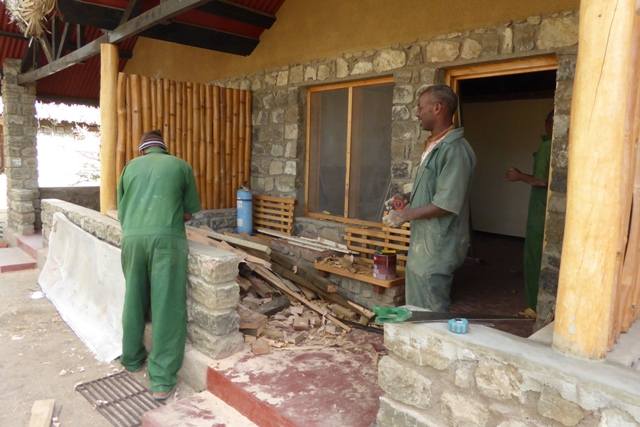 Most of this work is done by our own staff from all departments. Guest numbers vary so much at this time of the year, that apart from half our staff on leave in rotation, the remaining staff members help each other and work together. Each day is accompanied by the sound of hammering, sawing and the smell of paint and varnish coming from the guest cottages.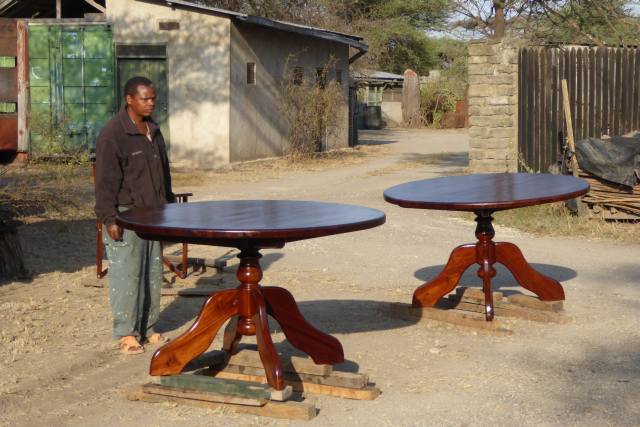 Over the past three months we have experienced three earth tremors. The second one was actually a full-blown earthquake measuring 5.7 on the Richter scale, and its epicentre was near the town of Bukoba on the western side of Lake Victoria.
We could feel our houses shaking, as it was quite a lengthy shock, accompanied by a deep, distant thundery rumble. Sadly, the earthquake claimed human lives in the area and newspaper photos showed collapsed houses and much destruction. Needless to say, as a result of the quake, we need to repair some cracks in the walls of the lodge as well, something we are actually quite used to by now, living so close to the great East African Rift.
One month ago, we were all shocked when reading in the local newspapers that 22 wild dogs have been found dead near Kakesio, to the south of Ndutu. The Arusha Times mentioned the possibility of poisoning and supposedly a radio collar found nearby. No clear findings have come out yet, but if it is true, what a tragedy. As in the case of lions and elephants, these ever-increasing human-animal conflicts are most distressing.
So, can you imagine our excitement when we went out to photograph the full moon descending in the western sky the other day? After a rather quiet drive near Big Marsh, we bumbled along towards Small Marsh where we photographed some beautiful Ammocharis of the Amaryllis family.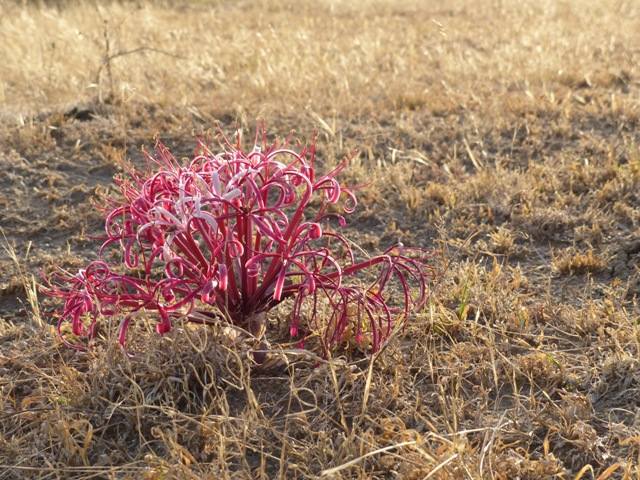 Back in the car, I did one last scan with my binoculars, and suddenly, on the opposite side of the marsh, an unmistakable silhouette appeared under the big Acacia trees: a pack of eight wild dogs. What an incredible stroke of luck! They were travelling along the marsh hunting. We carefully followed and saw them suddenly turn around in a bushy stretch, and joined together for a final fast sprint, which ended along the marsh edge. Two dik-diks were devoured in a matter of minutes.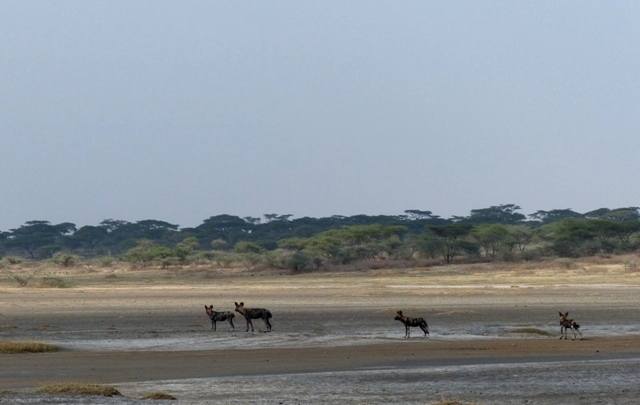 One adult wild dog was wearing a radio collar. Hopefully this provides the powers-that-be, who are monitoring the movements of this pack, with accurate information as to their whereabouts. Regrettably, we have since heard that the radio collar is no longer functioning.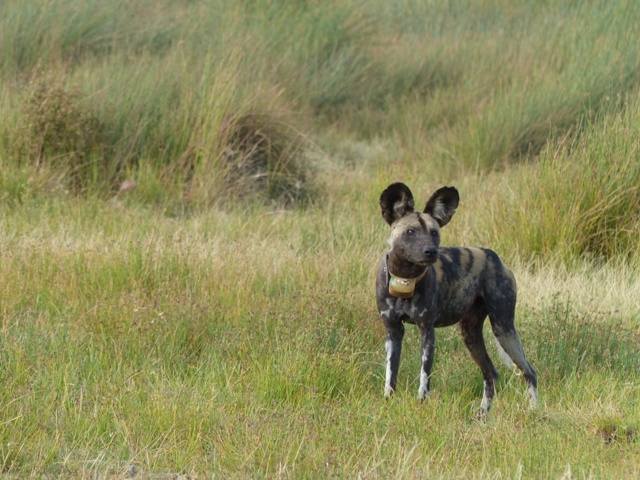 What a treat to be able to end this letter with news about a sighting of a healthy pack of wild dogs. May they fare well with the coming rains which hopefully will provide plentiful food for these amazing creatures, under so much pressure right now!
Aadje,
October 2016