Greetings everyone!
We start this latest newsletter with the release of two promotional videos.
The first was made by a film crew based here at the lodge last year filming cheetah.
And the second video…. Not so long ago we discovered we have a musical youtube star in our midst, a singing and dancing sensation named JovyJozy (you might like to google him!). Having realised we had this talent on our doorstep, and also knowing how much music and dancing is part of their lives, we set a challenge to the staff – to write and produce a musical video about Ndutu Lodge. Once the song was written and professionally recorded, a film team came from Arusha to record the song in various locations and for two days there were song and dance routines echoing around the marshes and Lake Masek. It is a colourful showcase of our lodge and staff, and we hope that both these videos will whet the appetite of our viewers to come and see it all for yourselves.
You can see both these videos on our website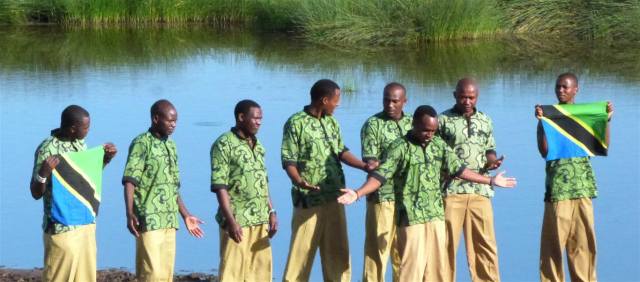 Last week we had our annual staff meeting, a time when we make sure all staff are on base, and we look back over the last year, honour the staff and the loyalty they continue to show, handout best worker awards and have nyama choma (bbq meat) together. We decided to make it a little different this year and celebrated the 31 years that Aadje and Margaret have owned Ndutu. There was more than the normal number of speeches and certificates recognising the number of years each staff member has been here.
Always of interest are the rainfall figures:
| wet season | total rainfall |
| --- | --- |
| 2016/2017 | 579mm |
| 2015/2016 | 854mm |
| 2014/2015 | 611mm |
Although the rainfall this year is low, it is not the lowest on our records. But the fact that both April and May this year were so dry, will have quite an impact on the wildlife, the maasai and their livestock and our water tanks. We have never had to resort to trucking water in for the lodge, although it has on occasion come very close. With careful rationing of the water we have collected, we hope we will make it through to November rains, but the demand from lovebirds, Warthogs and Impala make it unlikely!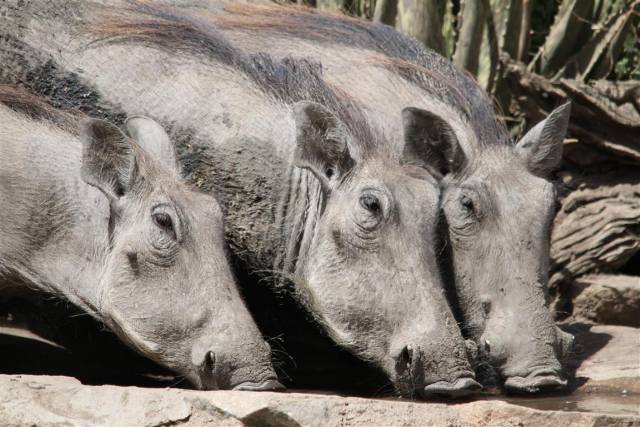 We were honoured to host Steve Stephenson and wife Yvonne, from Nairobi. Steve has behind him a lifetime devoted to the East African people, their environment and their wildlife.
From the war years in Somalia with the Gendarmerie Camel Corp patrolling the Horn of Africa, to Somali Civil Affairs administering and disarming the Ogden Somalis, to Studies at Oxford and London Universities and then the Colonial Office, Administrative Services in Tanganyika. His posting during this time saw him in a District Commisioner role in Kilwa, Maasailand and the Kingdom of Karagwe.
In 1962, Steve was offered a Job with Tanzania National Parks – provided he got his private pilots licence! This he duly did and went onto become the Chief Park Warden of Southern Parks, achieving the statutory gazettement of Ruaha, Katavi, Mikumi and Gombe Stream.
Ten years later he was posted to Serengeti and had the honour of handing over the management of the Park to the Tanzanians, whom he had helped train. It was during this time that he and Yvonne formed strong links with Ndutu Safari Lodge, and they have returned many times over the years to this area they love so much.
From Tanzania, Steve became the Wildlife Advisor to the Ethiopian Government during a very turbulent period of it's history.
Retirement came, but in name only, as he continued to take on conservation commissions around Africa – Somalia, Lesotho, Sudan, Tanzania; writing management plans, strategy plans for endangered wildlife, rehabilitation plans for devastated parks and two consultancies for the film production of Grzimeks "Serengeti Shall not Die".
Steve recently celebrated his 97th birthday with a memorable party at the lodge. A quick wit, entertaining story teller, speaker of impeccable Kiswahili, we look forward to sharing time together again in the future.
There is new magic coming out of the kitchen with arrival of Maretha from South Africa, who has joined us to build on the good work that the wonderful Jenny has done over the years. Old recipes have had facelifts and are presented in new and tempting ways and for those of us with a sweet tooth, the desserts are mouth-watering and completely irresistible. The daily 3 laps round the football field is no longer enough to combat the effects! The chefs are challenged daily to learn or produce something new, an opportunity they have embraced, to continue to learn and expand their skills. Come to Ndutu and find out for yourselves, but expect an assault on your waistline!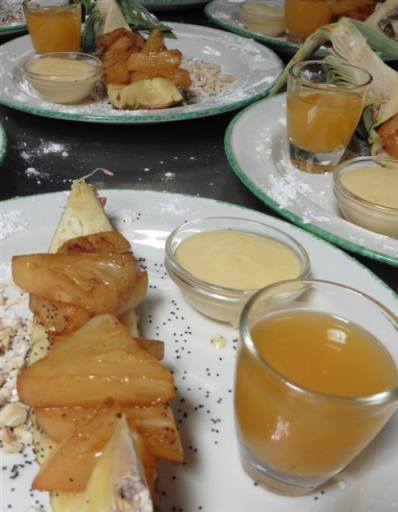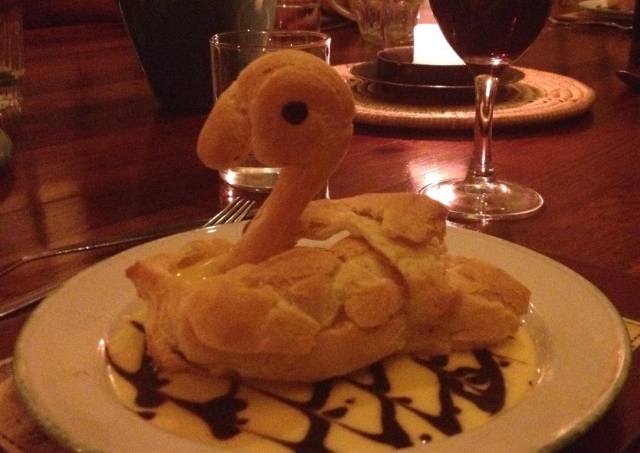 Dining outside, under the acacia trees and African stars, is a quintessential safari experience. The soft glow of the hurricane lamps, the campfire, the smells wafting from the bbq, a chilled tusker or cocktail… all part of our new outdoor dining experience.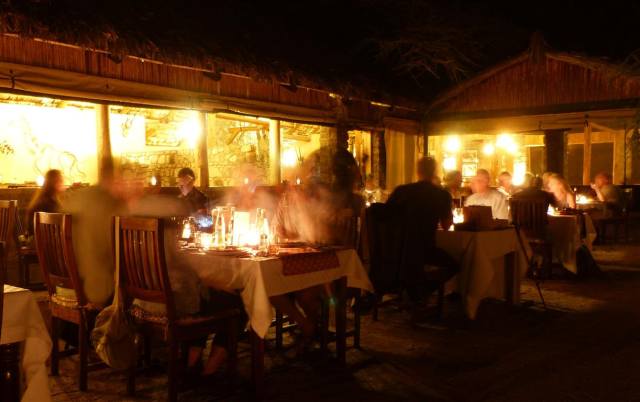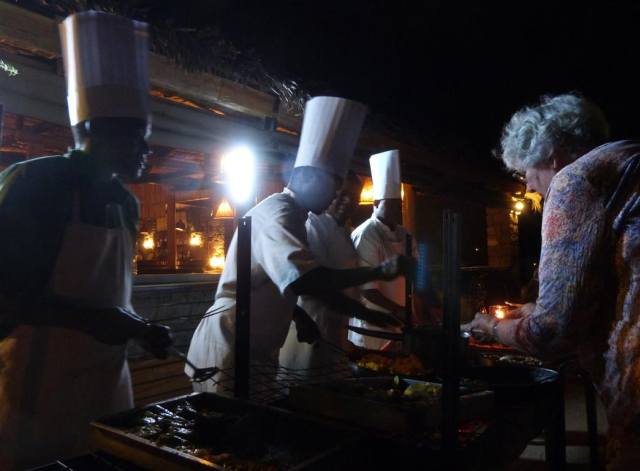 Bessie and TZ live again…
you may remember some months ago, seeing photos of both these beloved old landrovers stripped naked to their bare bones. Slowly, under the skilful direction of Lenard in the workshop, starting from the wheels up, she has taken on new life, and has even made her first trip to the big city. The dilemma now is what to call her…. The chassis is from TZ, the engine, body and roof are from Bessie, the seats from….. and the steering wheel from….. and the number plate is from TZ. The skill of these self-taught "fundi's" is awe-inspiring to say the least.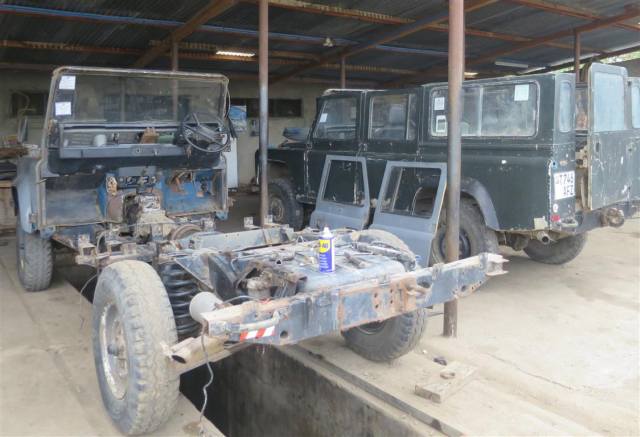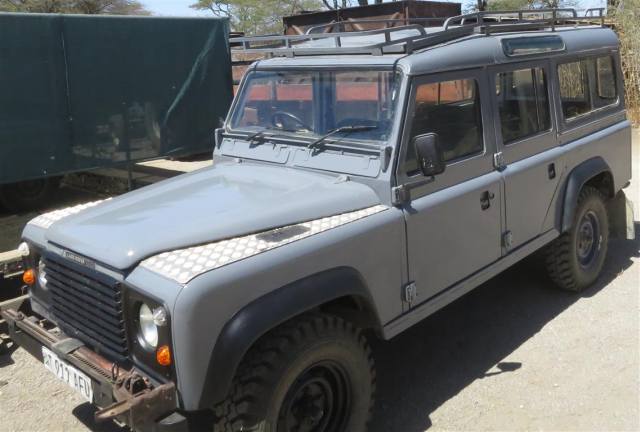 And not content to stop there, Lenard then decided to tackle the water bowser. A much larger and more complicated job, it remains a work in progress!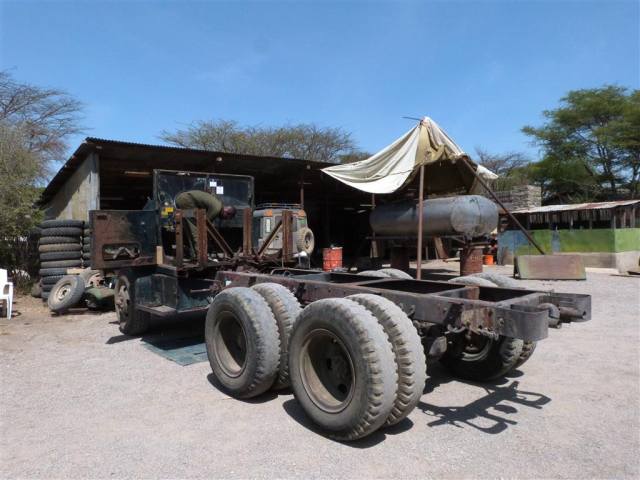 Not so long ago, a group of large bull elephants spent a couple of days hanging out down the front, and we were interested to watch one with only half a trunk. Possibly lost through a snare, it had obviously happened sometime ago, as he was in very good condition and had adapted his feeding technique to include the use of sizeable tusks and his front feet, showing just how versatile animals can be.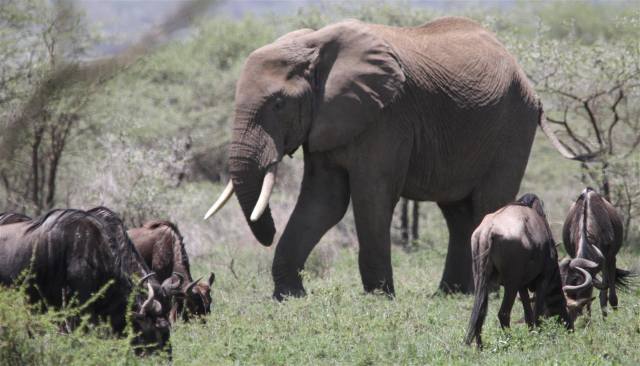 The twists and turns of the lives of the lions continue to keep us intrigued and delighted. As the subadults from all four prides reach adulthood, the males begin to roam looking for territory to call their own, and the females are staying together to form strong coalitions. That can only mean one thing….new cubs… an astounding 17 of them…so far!!
With the dissolution of the Marsh Pride last year, the Thin pride have taken over the marsh, and relishing the spoils that come with a prime piece of lion real estate. Laura and daughters Winnie and Willow have 8 cubs between them; Winnie and Willow being first time mums have a wonderful role model in Cassandra.
Cassandra returned to the Marsh area this year, with one of her daughters Diana to delight us with 5 new cubs between them. We were thankful that Cassandra had age and experience on her side to cope with the relentless bombardment of tourist vehicles, many showing no regard for the 25m minimum distance from wildlife. Joining them recently is Juno, another one of the sub-adults raised by Cassandra with her 4 cubs.
Venus and Vesper, who are reaching 3 years old now, have recently been seen consorting with two new males out on the Makao Plain, potentially resulting in cubs in about three months time! Watching the movements of these two new males will be interesting – Remus and the ne'er do well Romulus had better keep their wits about them! R&R are now spreading their territory to include the Lodge and Causeway areas, forcing the Masek pride and their subadults to move to safety.
Fortunately Nosikitok's GPS collar allows us to continue to follow their movements as they move into new territory on the other side of the lake. The sub-adult males, are a sorry looking lot at the moment trying to master the art of hunting without their mums to do the hard work, and looking a little hungry. Nosikitok seems to return to them every few days, probably knowing they need a bit of help from Mum with their dinner, however her attentions will be needed elsewhere now as we suspect she has new cubs hidden away.
Nayomi and her pride with poor lonely Katavi in tow, undertook an excursion over to Laetoli where they scavenged 4 cows who had been left out overnight but thankfully have now returned to their old haunt of Olbata / Twin Hills Valley and with plenty of zebra, eland and giraffe in the woodlands they will be doing ok. We look forward to this time of year with a little bit of dread for Nayomi's Pride as they are faced with yet again surviving a dry season surrounded by pastoralists and livestock. KopeLion Guardians will once again be working diligently to keep the peace between the two groups.
The cheetah are so much harder to keep track of as their hunting grounds are wider and they travel further to find food. But two females who we know well at Ndutu are Willow and Etta.
Etta was first seen as a two month old cub in early 2008 with her five siblings and her mother Eleanor. The family became local celebrities that year as everyone watched Eleanor raise five of her six cubs to maturity. Cheetah cubs have an extremely high mortality rate – for every 100 cubs born only 5 will make it to adulthood so by anyone's standard raising five out of six is pretty impressive, particularly as it was her first litter! The five cubs reached independence in mid-2009 and were all named after famous jazz and blues singers.
Etta was named after Etta James and her two sisters became Aretha (after Aretha Franklin) and Nina (after Nina Simone), her two brothers became Howling and Wolff.
In early 2012 Etta introduced us to her first litter of cubs, originally the litter was of four playful youngsters who became favourites with the visitors to the Ndutu area. The family was even photographed by famous photographer Frans Lanting and their picture appeared in National Geographic magazine. Sadly one of the cubs died a few months later but the remaining three, a female and two males survived and reached independence.
Etta has been frequently seen wandering across Ndutu plains with her four new cubs which were born in early November last year!
Willow – She is about eight years at present, the cub of Ebony. She has spent her life around Ndutu, however she has often roamed over to Kusini. She successfully raised a male and a female cub to independence in 2013. She was seen with six cubs in June, 2014 and unfortunately she lost 3, but the surviving cubs made it to independence.
Willow disappeared for about a year, and we feared the worst, but then she reappeared and started showing herself regularly to us and early this year she introduced us to her one and only handsome male cub. He is about six months now. We shall watch his progress towards independence with great interest.
CONTRIBUTION FROM SARAH DURANT – SERENGETI CHEETAH PROJECT
Ndutu Safari Lodge plays an important role in establishing a new pan-African network for cheetah conservation
The end of February saw the arrival of some important new faces at Ndutu. These were the representatives of a new network of National Cheetah Coordinators (NCCs), charged with facilitating the implementation of their country's conservation action plans for cheetah and African wild dog. They had travelled from far-flung corners of Africa to attend a training program on conservation of cheetah and other large carnivores, including African wild dog. This was the first time that government representatives from across Africa had gathered together in the cause of cheetah conservation.
A total of ten countries were represented: Algeria; Angola; Benin; Botswana; Burkina Faso; Namibia; Niger; Tanzania; Zambia; and Zimbabwe. Each harbours an important part of the remaining global cheetah population, estimated at only 7,100 individuals. Yet, in many of these countries cheetah are rarely seen in the wild. Only a handful of people have ever seen cheetah in the Algerian Sahara, for instance, while cheetah have only recently been rediscovered in Angola. Thus, by coming to Ndutu, one of the few places in the world where it is possible to reliably find wild cheetah, many of the NCCs were able to enjoy their first encounter with cheetah in the wild. Gaining this first-hand experience of watching the natural behaviour of wild cheetah is invaluable, and has helped generate enthusiasm and motivation for the hard conservation tasks ahead.
As well as learning from their direct experiences of observing wild cheetah, the NCCs were trained in a wide range of subjects, including cheetah and wild dog ecology, mitigating human-large carnivore conflict, wildlife monitoring and project design and implementation. This training was provided by the Tropical Biology Association, together with support from the Range Wide Conservation Program for Cheetah and African Wild Dogs (RWCP). The NCCs finished up by identifying a set of conservation activities as their priorities over the coming year. These represent their own direct contribution to cheetah conservation within each of their countries.
This training at Ndutu is a key activity of the RWCP, and is the start of a four year program of training, mentoring and support for government wildlife authorities, to develop lasting capacity for cheetah conservation. The RWCP is a long term program, initiated in 2007, seeking to halt and, ultimately, reverse, declines in cheetah and African wild dog across their African range. In this phase of our program we aim to establish four large 'Cheetah Landscapes' able to support viable populations of cheetah, and to develop capacity and foster political will for cheetah conservation.
We wouldn't have been able to do take this important step in our range wide conservation program without the support of Ndutu Safari Lodge.
My office tucked in the back of the lodge doesn't provide the opportunity for wildlife sightings! But one day I did get the fright of my life when a zebra literally poked his head in my door! He and his mate, were following the trail of juicy green morsels, and they led right to my office door. Not at all phased by staff walking past, or me with my camera, they continued to follow their noses right through the gate into the kitchen!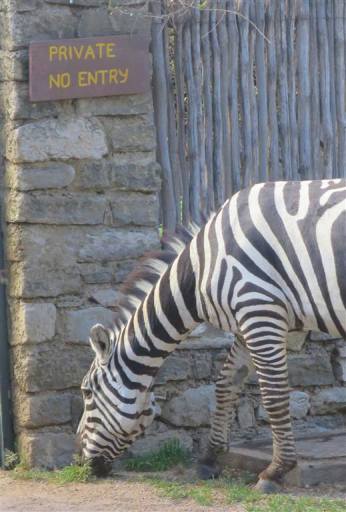 The little avacanthus mice are currently having a population explosion, under the aloes outside my office, and will often come in and nosey round my feet, looking for crumbs from my sneaky snacks. One managed to get himself stuck in my locked cupboard and it took several hours of me listening to a scratching sound before I got round to investigating… he had scratched and nibbled quite a sizeable chunk out of the bottom of the door in his attempts to escape!
It is a beautiful time of year at Ndutu – aloes are in bloom; always such a spectacular sight; a blaze of colour and alive with sunbirds.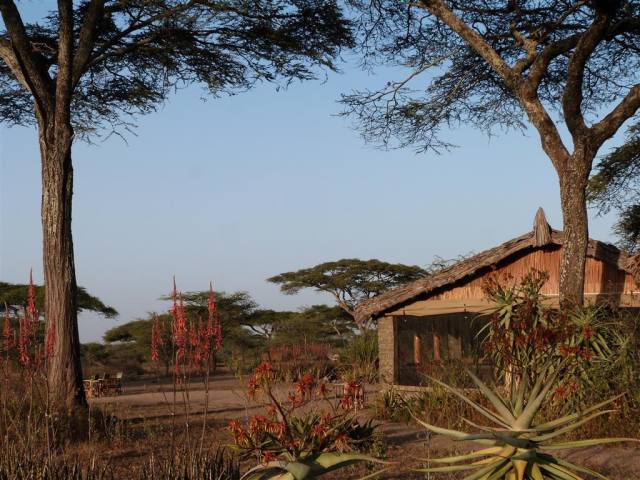 Best wishes to everyone from our little corner of the world.
Ainslie,
July 2017