These are our coldest nights and mornings… temperatures drop to 12 degrees at times, but contrary to living in Karatu, Arusha or around Kilimanjaro we enjoy a sunny morning and most days are warm and pleasant!
Invariably my start is with our weather, as that influenced so much of all that happens here with the flora and fauna!
In the end, as Ainslie started to show, we did get another El Nino, even though the experience was very different from the last two ones, in 97/98 (1035 mm)  and 06/07 (924 mm) after having just closed our seven wet season months (November till end May) we this time collected 854 mm of rain. Our yearly Wet Season averaged over 30 years, shows 593 mm of rainfall.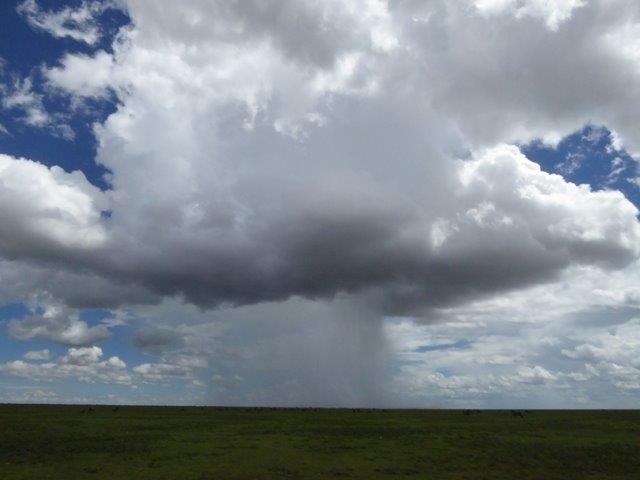 Those earlier El Ninos I remember as very wet, with many grey, overcast days and daily showers, whereas this last one brought us much precipitation but it hardly ever made travel impossible, including the game-drives in the Ndutu area.
So a lot of water and what it did to the trees and bushes/bush in particular!
Some branches must have added at least a foot to their size… so for the vegetation it was absolutely wonderful. Our Ndutu and Masek lakes too are not complaining and are still full to the brim with some groups of Flamingos feeding along the edges.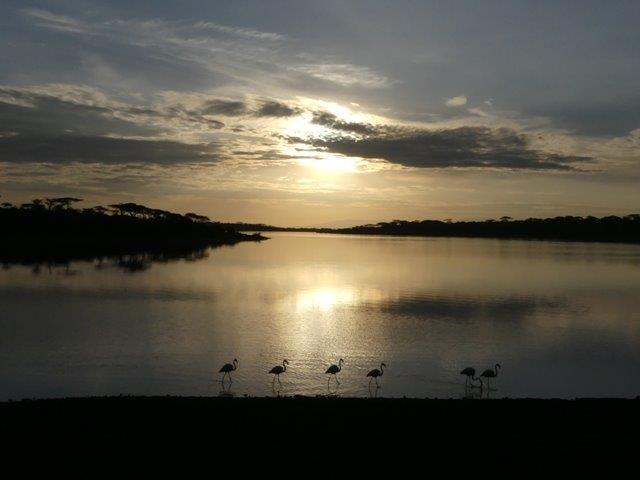 My favourite month of April was unsurpassed this year, in wildlife and weather experience and just beautiful skies and light all around! Truly a photographer's paradise!
Having been 'off the premises' quite a bit over this time-span, my stories rarely reach the Big and Small Marshes, the lions and cheetahs and many of the other highlights "out-there", however much information of course filters back every day!
Dennis Minja, who keeps track of all the Serengeti cheetahs, and comes and goes and gathers all the Ndutu cheetah news continues to fit little pieces to their fascinating puzzles and we enjoy his company when he stays with us a few nights every 6 weeks or so.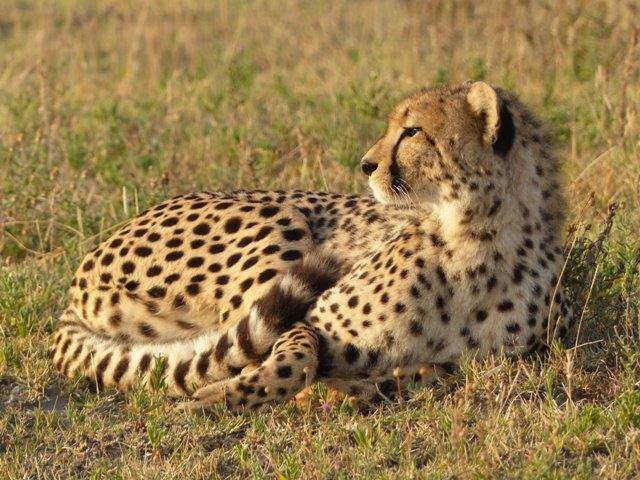 Right now, we hope that a lovely lady cheetah, inspiringly known as NO. "3821" but luckily also remembered by her more likeable name "Yello", will manage to evade those ever present lions of the Marsh Pride. Yello has two tiny cubs hidden in the Big Marsh since early May and so far has been able to circumvent those dangerous neighbours. The two resident lion males Romulus and Remus are always patrolling or hanging about and making the marshes a very dangerous place for small cubs! Here they are seen in a more relaxed mood.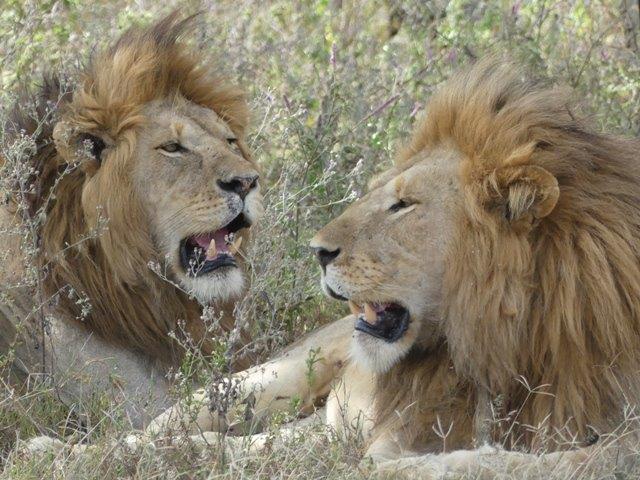 After all those glorious showers ending in April, May was dry and so far June also.
The groundcover dried quickly, and the grasses are yellow and many flowers have given way to seed and fluff. The Milkweed Gomphocarpus sp hairy, inflated fruits eventually float away on the winds and leave a field of white spots on the yellow grass.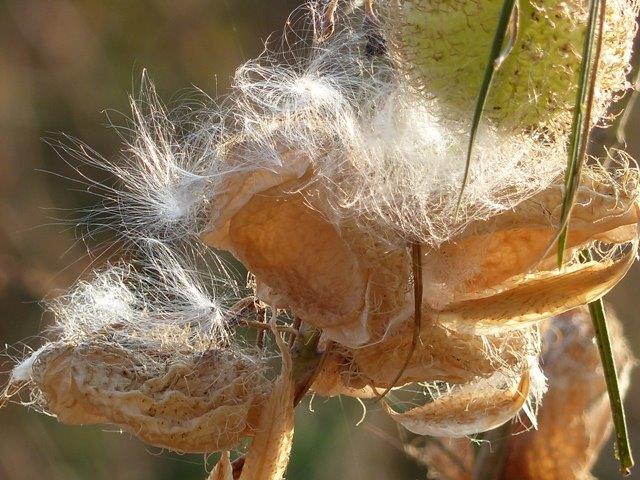 One of the wild climbing Cucumber family also ends up as a beautifully shaped seed pod, with silk-white fluff ending its life circle.
The small delicate white flowered Hybiscus ……are in full fluff right now, the early morning sun shows up the woolly bits everywhere you look!
It is all about new generations!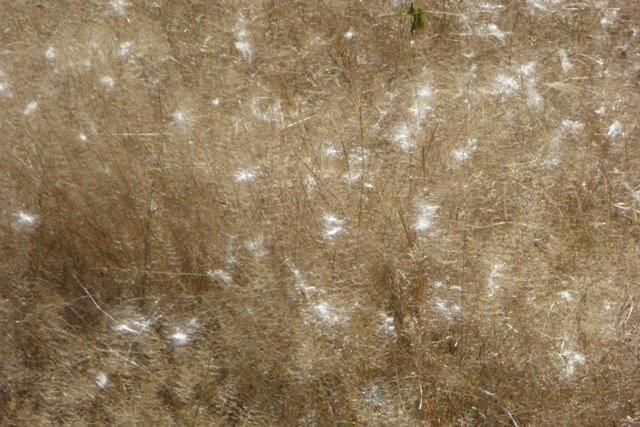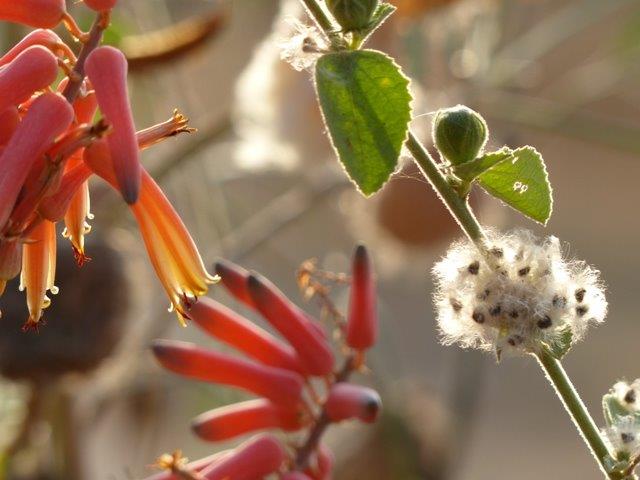 Whilst we are on the subject of seeds scattering there is the by now infamous Gutenbergia cordifolia, a name quite rightly much discussed over the past 4-5 years. This endemic species has managed to take over vast areas of the Ngorongoro and Serengeti already and its present explosive invasion is a very, very worrying indeed.
Until now, and despite the observations from local knowledge, interested parties and by experts, nothing has been done or been put in place to look at this potentially very dangerous and huge expansion.
And it is not something that can be solved in a few months either, but to get a real overview will require a longer-term study to establish the why's and how's of dealing with it if that is what needs to be done and decided.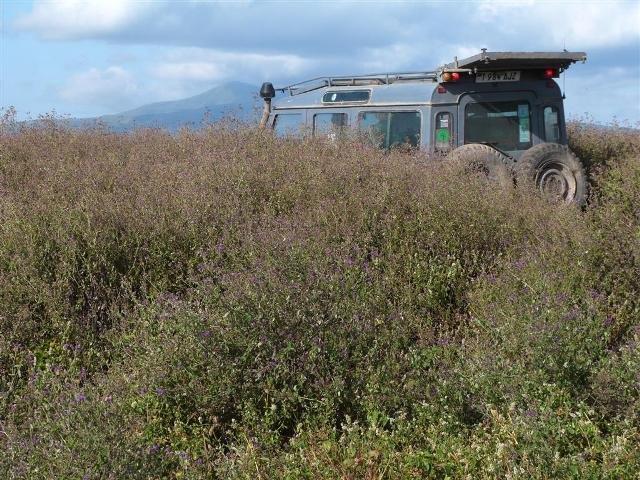 It is almost too late to get a seasoned botanist with assistants to set up this research but even then better too late then never. The consequences are already very visible in the Ndutu area and this year the herb is seen all the way to Kusini and Moru in places..
And apart from Gutenbergia other foreign invaders are increasing all around, notably here at Ndutu there are now stands of Tagetes minuta and the dreaded very poisenous Datura very visible around all the abandoned Maasai bomas.
Warnings have gone out repeatedly and let us hope that soon these issues will be brought up and tackled and looked at!
Invariably every year Hidden Valley not only lives up to its name but also provides some weeks of spectacular wildlife activity; once the wildebeest decide to move west and north further into the Serengeti, some of the herds often hang about the Hidden Valley lakes and surrounding grazing areas for 2-3 weeks. What a spectacle! And it actually does not require leaving the Lodge before sunrise, as the best time to see the vast numbers of zebra and wildebeest there is late morning, midday when the grazing stops awhile and the lakes bring the herds to the waters!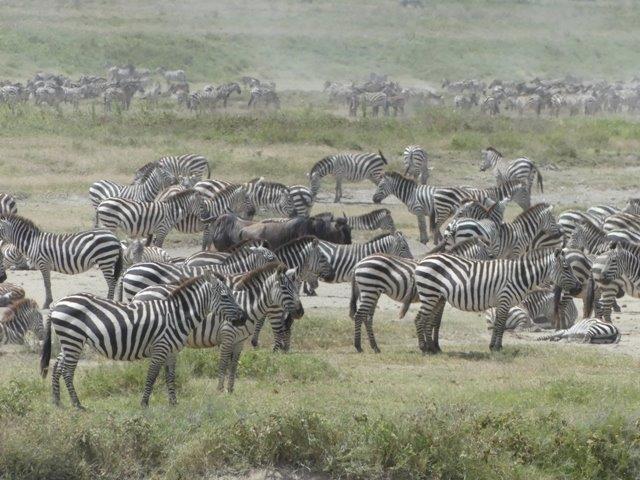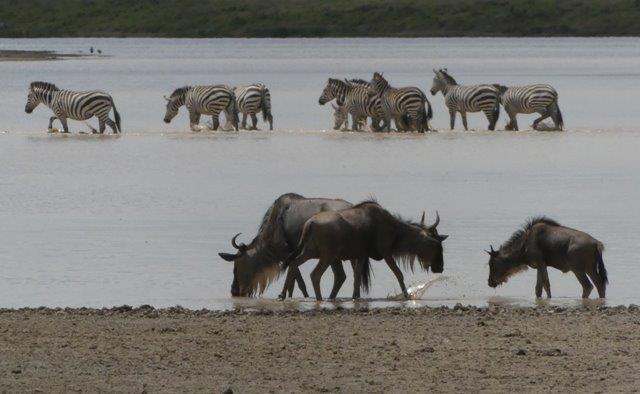 Eventually though the grazers leave on their trek through the beautiful Moru area and into the Western Serengeti corridor and further north.
So here we are left with our residents, great and small.
And to prove that Ndutu has a very good Leopard population: two weeks ago a Dutch guest couple staying with us for nearly three weeks went out around two in the afternoon for a drive and returned a few hours later to announce they had seen 4 different leopards, one even with a cub!
Of course there are leopards at Ndutu, they are just very good at hiding and the brush is very thick in places! And we do catch them on camera traps and hear their raspy sound during the night.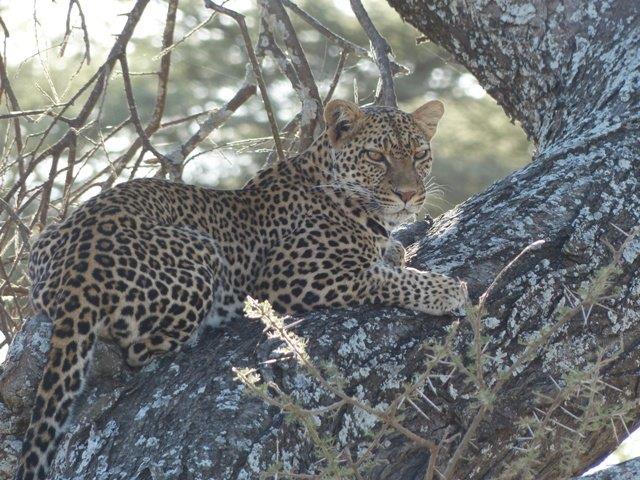 Ainslie also 'trapped' a striped hyena several times on her movement camera at her house overnight as well as honey badgers and even a caracal not long ago.
We have experienced a sort of invasion of black caterpillars, mostly during the night crawling everywhere, and our barmen have been actively sweeping the sitting areas regularly as these hairy little 'inconveniences' can cause itches and lots of scratching if they manage to crawl up an arm or leg!
On Lodge premises, as normal when circumstances get dryer and dryer, smaller and bigger mishaps occur.  Philipo, one of our night watchmen, told me a cunning Leopard caught one of our local Dikdik babies in the carpark after the lights went out the other night. Over dinner and in the evenings the beautiful Orange-winged bat makes use of our Lodge hanging fish-trap lights as a hunting take-off place whilst zooming in and out of the front doors.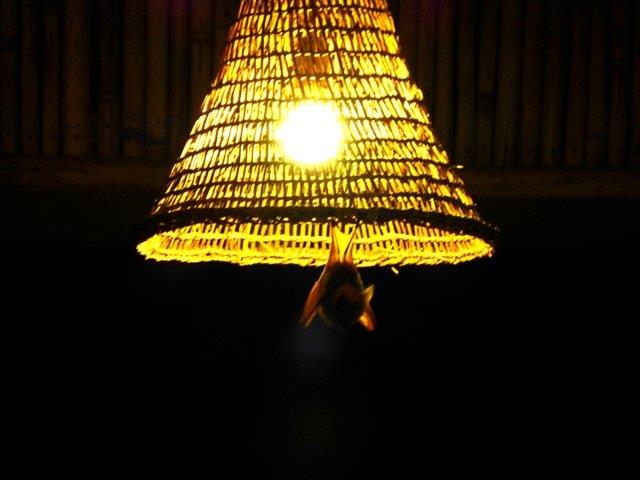 Other regulars right now are the various sunbirds fluttering to and fro as the Aloes have sprung into full bloom, whilst the endemic grey-breasted Spur-fowls venture closer and closer to the birdbath too in the early mornings.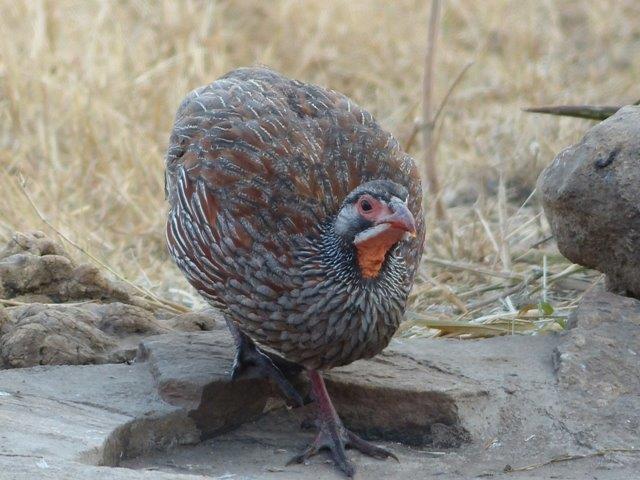 Even the normally rather shy flock of guinea fowl have started to visit with a string of offspring, just how many fit into one birdbath?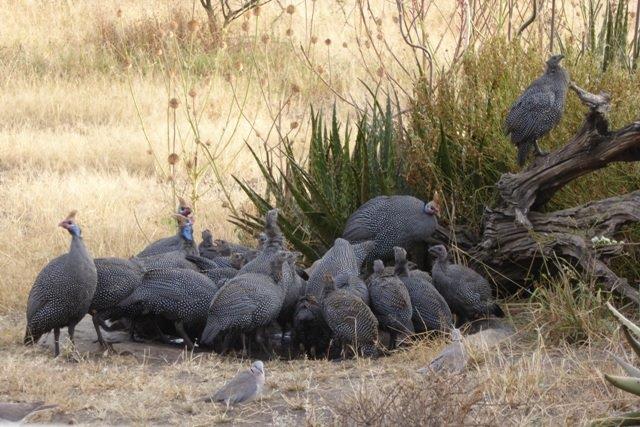 Not long ago, late afternoon, whilst I was gardening in the front of the Lodge, I kept hearing impala snorts; this not an uncommon sound around here as the males vie for the ladies all the time. However, the sound not only came from right behind the rooms, but was so repeated that I decided to investigate.
Luckily I had my camera at hand because carefully walking back to my house I found a male impala standing stock still in front of Ainslie's sitting room window, staring intently at his opposite image in the glass.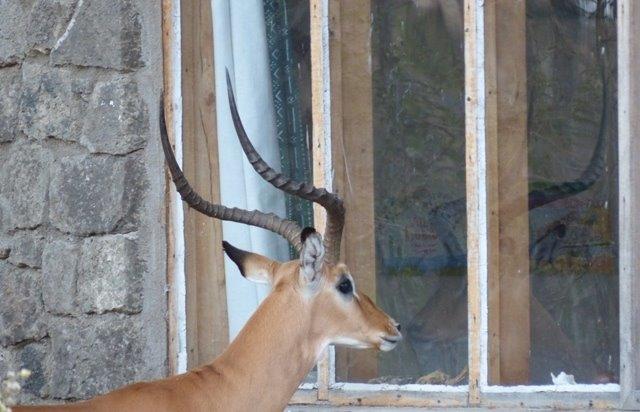 He was so engrossed and perplex that I could approach close on foot. He would turn around and look around and at me but not the least afraid would get back to the window all the time.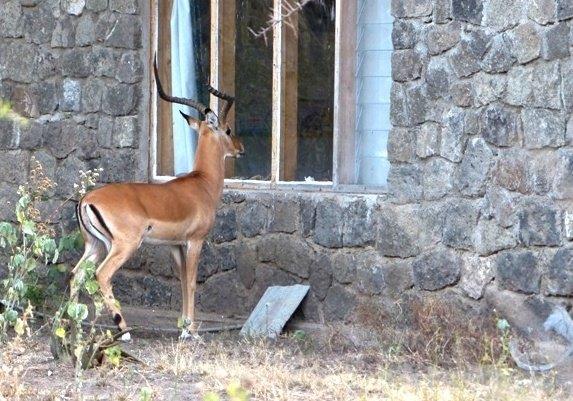 Although the light was fading fast I stood there at least twenty minutes, whilst he paced back and forth to the window, often smelling the window and the glass and a few times attack the outside, banging his horns. Quite frankly I thought Ainslie would loose one of her window panes and was already prepared to order a new large bit of glass!
Contrary to several past years the El Nino effect – much more vegetation – then forces us to clear a firebreak and do some 'controlled' burning around the Lodge and immediate surroundings..
So this year re-erected and out comes the "Fire-Making" machine; a very useful contraption that we made many years ago when we first received 'controlled bushfire' lessons from a specialist scientist from Seronera.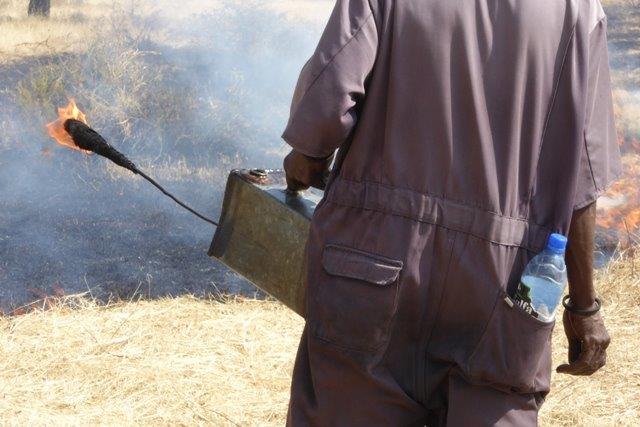 After a thorough cleanup and armed with wet 'gunias' (gunny bags) and 5 or 6 members of staff off we go and "control-burn" in the early mornings.
The air is still cold then, the wind not too erratic and strong, perfect ingredients for a safe and ideal burning session.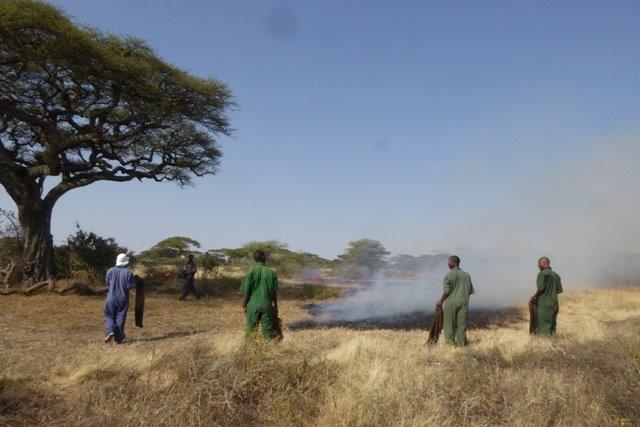 Over all these years, Andrea has always been our 'fireman'! As one of the two employees I met in 1971 here already working for Mzee George Dove, and then a very young man, Andrea and his family live in Makao, which is the village closest to Ndutu just outside the NCAA-Serengeti boundary in the East.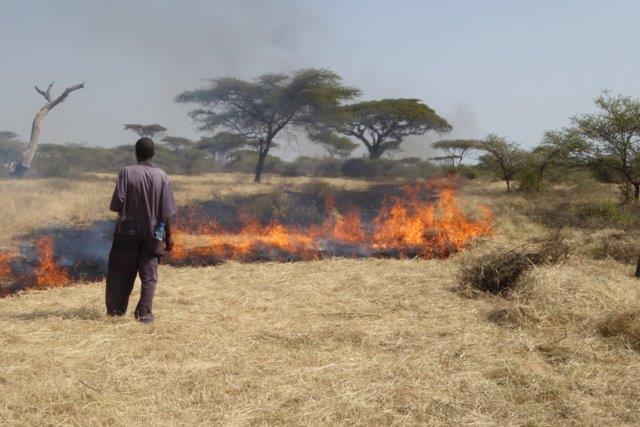 He is a true man of the bush, with much knowledge to share and he has worked off and mostly on at the Lodge since those early days.
And although Andrea is the earliest of our Ndutu Residents, we are having to say goodbye to two "earliest" of a younger generation who have decided to leave, Erasto Mosha and Hamisi Massawe.
Both joined Ndutu shortly after we acquired the Lodge in 1985, and spent tall these years working faithfully and hard for our good course!
Erasto, who arrived here via his uncle Mzee Marcelli Mosha followed in his footsteps and worked as a very reliable waiter and barman, whilst Hamisi was employed in various parts of the Lodge till he learned to drive and then became interested in the animals and went on to be an excellent resident driver guide and showed many, many guests his favourite cats and wildlife of Ndutu.
Although very sad to see them go we wish them all the very best for what the future brings them, at home and in their future plans!
Now into June, in the late afternoons the skies in the West are making for a few spectacular sunsets with the start of the first big bush fires in that part of the Serengeti Park.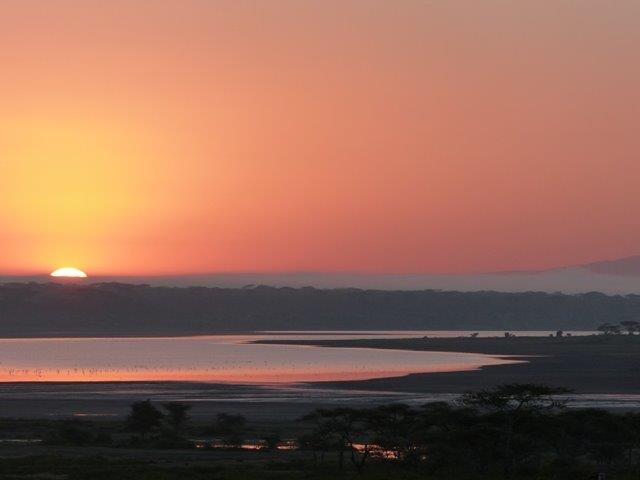 We hope that the Dry Season won't turn into a La Nina and that our resident animals in the area will survive and make it through till the first rainstorms arrive again later in the year!
Aadje,
June 2016