In the heart of the Serengeti Plain, at the head of Olduvai Gorge, beside a small lake set in beautiful acacia woodland, with the mighty backdrop of the Ngorongoro Crater highlands.
Where is Ndutu?
It's just where you want to be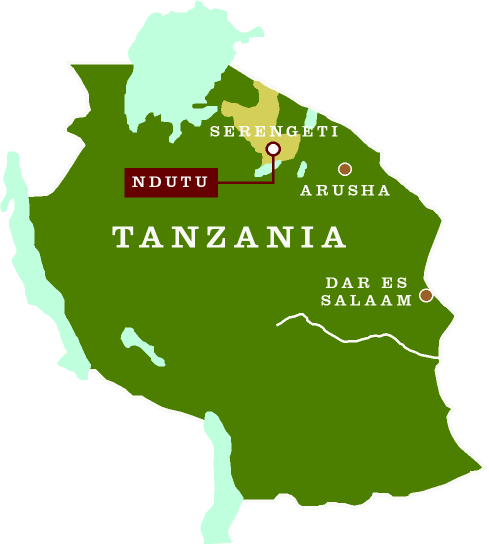 Distances by Road from Ndutu to:
Distance
(Kilometers)
Approximate Time
(Hours)
Seronera
80
2
Ngorongoro
90
2
Karatu
142
3
Arusha
280
6
Manyara
165
4
Tarangire
235
6
Lobo
160
4
Ndutu airstrip (all weather, since April 2008) is 1 Kilometer away from the lodge. Approximate flying time from Arusha Airport to Ndutu is 50 minutes. Free transfers are available to transport guests to and from Ndutu airstrip to the lodge. Daily scheduled air service is available from Arusha to the Ndutu airstrip. Other airstrips in the vicinity are Seronera and Manyara.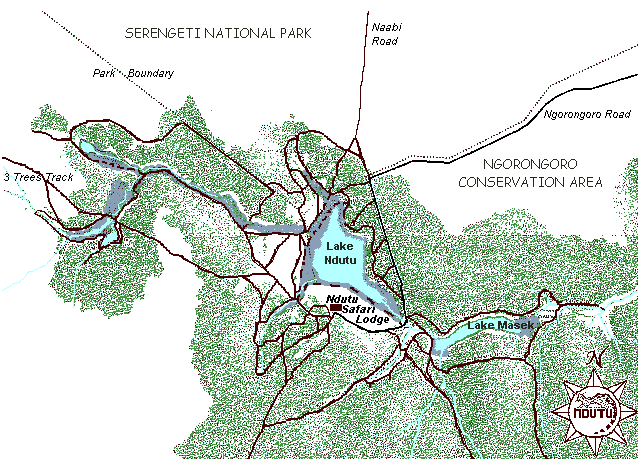 Altitude: 1646 metres, 5400 feet
Co-ordinates:
Degrees: E 34.997 S 3.020
UTM: 36S 721925 9665979