Your feedback and photos
You can find Ndutu Safari Lodge on
Facebook
.  Please take a look, follow us and post your own photos and memories of your visit to our Lodge and recommend us to your friends. Just another way for us to keep you up to date with the many wonderful things that happen at Ndutu.
On this website we also have a guest gallery for showing sets of photos from you, our visitors, about your time at Ndutu. Here you can share the highlights of your visit, and show your favourite photos from the Ndutu area.  Please send your photos directly to photos@ndutu.com

[Technical details: Jpg files please. Long side greater than 512 pixels – 1200, or 1600 recommended. Anything larger is fine, but what you send is what will be uploaded, and so be aware that it will be available to others.  IPTC captions will be automatically picked up and displayed, or use a descriptive file name. We display your name(s) and the date of your visit, and any other comments you like to provide.]
Birds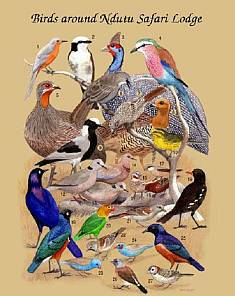 We are especially interested in hearing about any unusual animal behaviour and also any rare birds which you have seen, so that we can update our Bird List (PDF file).
Cheetah Watch
Ndutu Lodge is proud to be a supporter of the Serengeti Cheetah Project, a project that has been running for over 30 years in the Serengeti.
Your photographs of the cheetahs you see on safari will help the Cheetah Watch scientists keep track of the Serengeti cheetahs.
The researchers rely on photos sent in from tourists to help monitor the population and movements of the Serengeti Cheetah.  Each cheetah can be individually recognised from photographs through its unique spot patterns, so a side view photo is best.  If you send Cheetah Watch your photographs, together with some basic information about where and when your cheetahs were seen, you will be helping to keep track of individual cheetahs across the country.
In return, if the cheetah is known to them, they will tell you a little of their story and history.  They are looking for information on cheetahs all across Tanzania both inside and outside of protected areas – so please send them your information, no matter where your cheetahs were seen.
Please download the Cheetah Watch Campaign leaflet, which gives details of how to provide your data.
Ngorongoro Lion Project, and the Lion Guardians
The Lions of the Ndutu area are very well known to us, and we follow their stories and ever changing lives with great interest. Ingela Jansson is our local lion researcher, and she welcomes photos of any lions you see in the Ngorongoro Conservation Area (NCA).  We recognise lions by their unique whisker spot patterns, ear notches and scars; close up photos are most useful if they include side shots of the lion's face.
As well as continually monitoring the lions of the Ngorongoro Crater and Ndutu areas, Ingela has now extended her work to deal with lion conservation in the Maasai inhabited parts of the Ngorongoro Conservation Area (NCA). These pastoralists have to co-exist with wildlife, but lions are persistent predators of Maasai cattle – and Maasai retaliate by killing lions.
In December 2014, we were delighted to be able to host the Lion Guardian Training, for the introduction of this project into the Ndutu Ngorongoro area. Lion Guardians is a conservation organization, founded in Kenya but now operating in Tanzania, dedicated to finding and enacting long-term solutions for people and lions to coexist across. Ingela has been instrumental is setting this up in our area, and after several years of hard preliminary work, we are thrilled that this has taken off. You can read more about Lion Guardians by visiting: www.lionguardians.org
Ingela writes: Ndutu Lodge, my home away from home. I work with lion research & conservation in the area. At Ndutu lodge I have always been met with genuine and unwavering support and welcoming, as a friend and as a researcher.
The owners and the full team that runs this place take a deep interest in, and concern for, the wildlife and the environment. It is very noticeable. No wonder guests returns here again and again. A good example of their support and flexibility was in late November 2014. On short notice the lodge provided full service with food, accommodation and classroom for us (19 conservationists, including the 10 newly hired Lion Guardians) during a 5-day training session.
We are deeply grateful!  If our paths cross in Ndutu, feel free to chat lions with me. I'd love to hear about the lion sightings you had. Very likely I know who they were, and if not that's even more exciting. 
Herd Tracker
Follow the wildebeest migration with Herd Tracker
Ngorongoro Conservation Area Authority (NCAA)
Our hosts: The main feature of the Ngorongoro Conservation Area include the Ngorongoro Crater, The Serengeti Plains that support about 2.0 millions migratory wildlife species of the Serengeti Mara-ecosystem
Some medical friends
Flying Medical Services
Flying Medical Service (FMS) was established in Arusha, Tanzania in 1983 by Pat Patten. The organization provides much needed access to preventative and curative health care, an emergency air ambulance service and health-related education, with a focus on poor and marginalized people in remote areas, who are not otherwise served by health care givers. 24 remote villages in Northern Tanzania are regularly served via a two week schedule to vaccinate and treat people close to their homes. FMS provides emergency flights, where they transport patients to a higher level of medical care. Payment guarantees are not requested, but a contribution towards the cost of the flight is asked. Transport for domestic and international medical professionals to and between hospitals within Tanzania is also provided.
People are treated regardless of religious affiliation, ethnic background or ability to pay immediately. The organization reaches 30,000 patients annually, filling a gap the Tanzanian Government is unable to meet. FMS is based at Arusha Airport, Tanzania, operating two specially equipped Cessna 206 aircraft, and is a non-profit strictly volunteer organization.
FMS is financially self-sufficient, however, if you are interested in supporting one of their other projects in financial need, please contact admin@fms.or.tz
AMREF: The Flying Doctors' Society of Africa
AMREF House, Wilson Airport, Langata Rd.
P.O. Box 27686 00506, Nairobi, Kenya
Direct:  +254 020 6994410
Mobile: +254 722 205084/733 333004
Email: flying.doctors@flyingdoctorsafrica.org.
Website: http://www.flyingdoctorsafrica.org/
Foundation for African Medicine and Education (FAME)
FAME  is dedicated to improving the quality and accessibility of medical care in rural Tanzania and making a difference in the day-to-day lives of the Tanzanian people. They strive to provide adequate tools, resources and professional support to enable their Tanzanian healthcare workers to best serve their community.
FAME clinic began in 2002, when founders Dr. Frank Artress and Susan Gustafson had their own medical crisis while traveling in Tanzania. Starting with a mobile medical service to remote locations in Tanzania, FAME now operates a full service medical facility in Karatu, Tanzania.  FAME provides Ndutu Lodge with wonderful medical care for both staff and guests.
Although we do have access to medical help, it is 3.5 hours drive away from the lodge, and we strongly recommend guests take out adequate travel insurance before coming on safari.