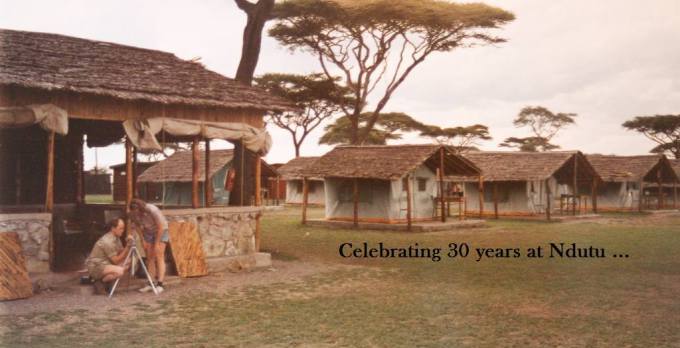 Our popular Facebook page is updated every few days with little snippets of life at Ndutu and helps to keep your interest piqued until the newsletter falls into your in box. We do think about you often, our loyal readers, waiting patiently and thank you for your frequent gentle reminders that winter in the UK, Europe or USA is brightened up considerably with the arrival of another Ndutu update.
We start the newsletter with three newsworthy events:
New Year celebrations at Ndutu took on slightly more significance this year, but I shall let Aadje tell you about it…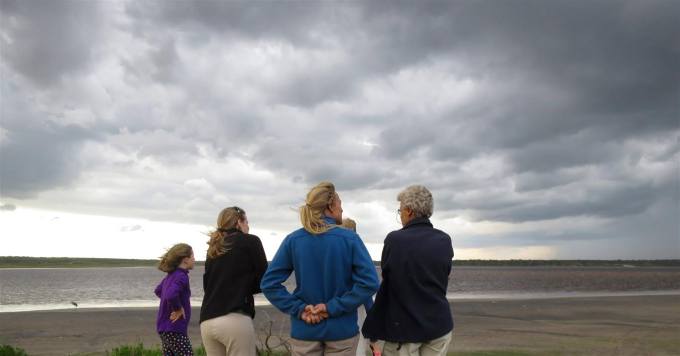 On the 31st of December we commemorated a special day: it was exactly 30 years ago that we bought Ndutu Lodge! We being Margaret Kullander (Gibb) and myself.
By now we could fill a small book on all that has happened over the years since, instead we celebrated the occasion with a small gathering and good friends and a drink and delicious "bitings" overlooking the Lake with flamingos in the foreground. Ainslie presented me with a lovely booklet full of pictures of friends and 'remembrances' and after an hour or so the El Nino Rain Gods arrived with a beautiful coloured sky and low clouds heading from the Triangle towards us. In the end it was not the rain that closed the happy occasion but heavy winds blowing across the lake and we gathered all goodies from the landrover bonnet and raced the clouds home!
It is difficult to imagine that such a long time has gone, with so many changes and events crossing our paths. Maybe one day I will manage some time to recall events and gather these together in some form or shape as history seems to slip through one's fingers fast these days.
These thirty years have been wonderful years, full of learning, experiences, ups and downs and of course the privilege of living in such a beautiful place.
Aadje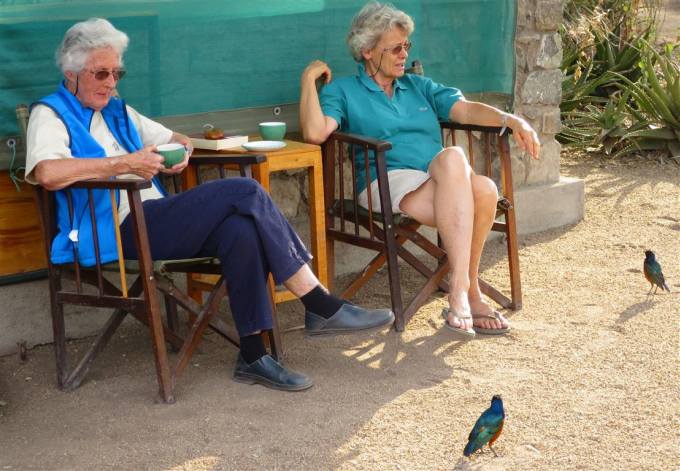 An event of equal importance, but within Tanzania, was the elections. Tanzania's new president, Honorable John Pombe Magufuli was sworn in after a smooth electoral process, and he has very swiftly set about getting the country back on track. His firm and bold governance style has endeared him to the citizens and he has instilled a sense of hope in people across the country with the new national motto "Hapa Kazi Tu!" = "Here, it is time to work!"
The third incident of importance was the return of Paul and Louise White; resident managers of Ndutu Lodge for 10 years. Campfire tales of their exploits here have become legendary and it was a treat to sit with them in person around the campfire and to hear stories of the early days of refurbishing the lodge, of the encounters with rogue elephant DT (short for Destroys Trees), of El Nino mud and duets of guitar and voice… The staff were delighted to see them return, especially Emily, who left as a toddler and is now a bubbly 10 year old!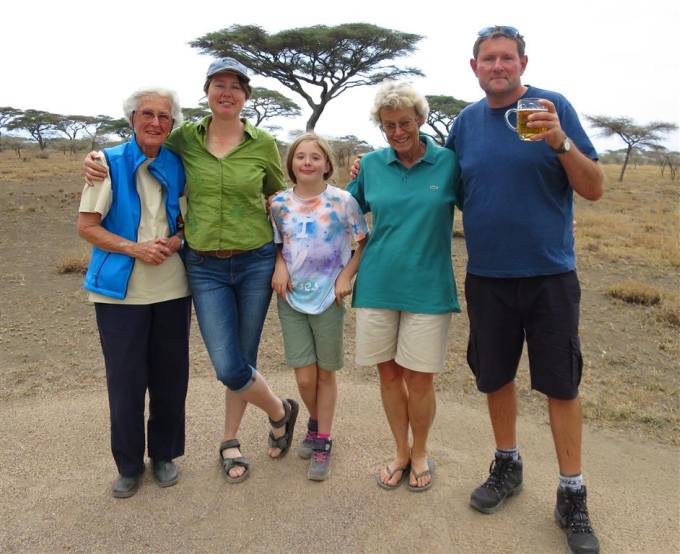 Paul's return to the lodge also signalled the end of Bessie. Having been Paul and Louise's trusty steed during their time here, she was kept in working order just long enough for Paul to enjoy one last trundle down the track for old time's sake, before she entered the workshop of Dr Len to become an organ donor to the remainder of the aged landrover fleet, helping to keep them on four wheels. I am always amazed at the skill of the guys in our workshop as they systematically stripped Bessie down, cleaned all her parts, juggled, rearranged, and resurrected them into a working landrover – with no odd parts left over!
By November, Ndutu was at the end of a very long dry season. The dust seems to get everywhere, temperatures are hot and tempers are high. Relief from the heat is near, as rain clouds start to build and rumbles of distance thunder break the afternoon silence. The fire ball lilies are flowering everywhere adding a nice touch of red colour to the parched earth and another sure sign of the approaching rains. Waiting for rain is one of the most frustrating things about living in the bush. The pace of life slows down at this time; the animals also seem to slow down.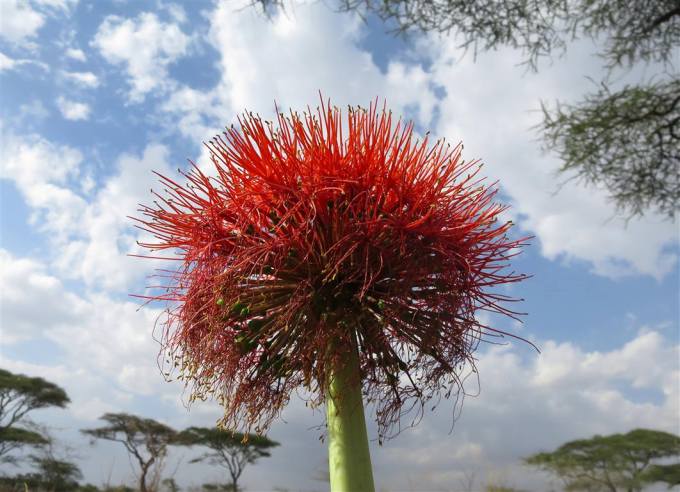 The rains started on schedule and in great force, and if you had been following us on Facebook, there were several occasions when the rain came in such force that the ditches and waterways diverting the water away from the lodge, were unable to cope and the only direction for it to go was in the bar door and out the other side, or into the dining room, where it was trapped, ankle deep!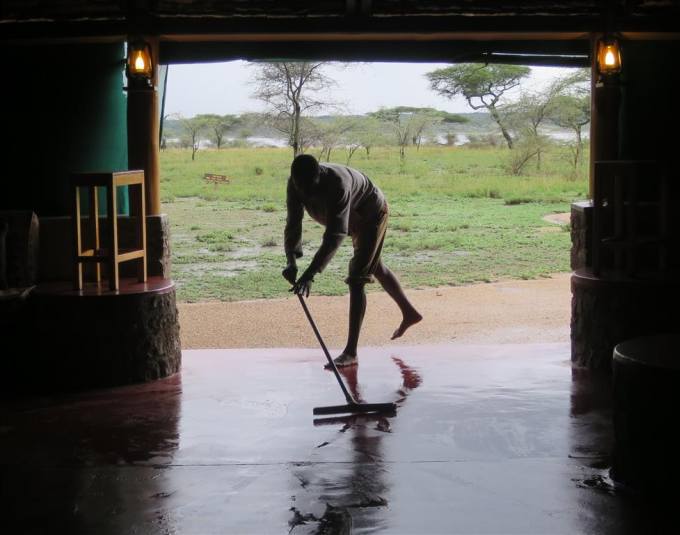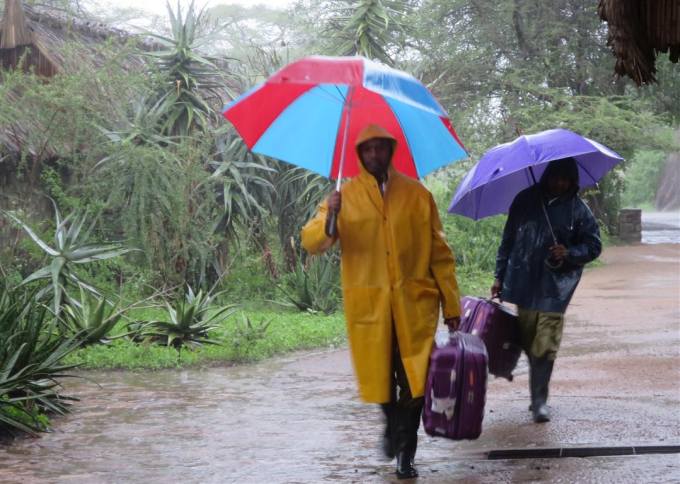 For many days during the rains, staff were not allowed to disappear and had to stay on standby armed with mops, rubber squeegies and sand bags. Ultimately deeper ditches were dug and larger pipes laid to enable the large amounts of water to escape.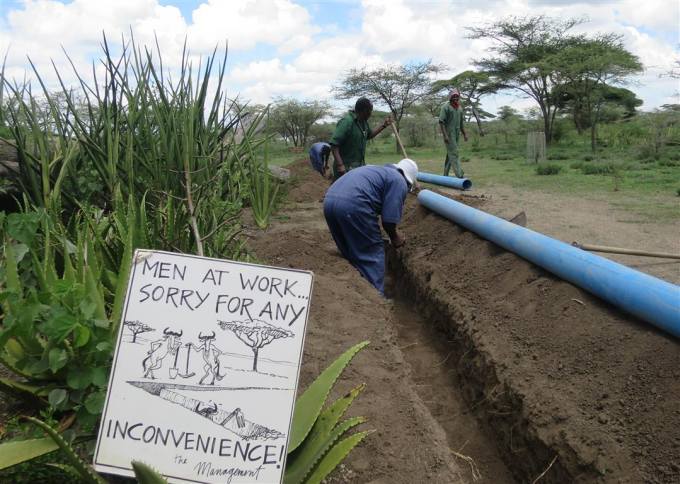 One of the very best delights about the rains arriving is the smell of water on hot dry earth. It is a smell of hope and anticipation.
I recently came across a scientific explanation for this smell:
Petrichor is the earthy scent produced when rain falls on dry soil. The word is constructed from Greek, petra, meaning 'stone', and ichor, the fluid that flows in the veins of the gods in Greek mythology.
The term was coined in 1964 when two scientist described how the smell derives from an oil exuded by certain plants during dry periods, and absorbed by clay­ based soils and rocks. During rain, the oil is released into the air, along with other compounds, producing the distinctive scent.
In a follow­ up paper, the researchers showed that the oil slows down seed germination and early plant growth. This would indicate that the plants exude the oil in order to safeguard the seeds from germination under duress.
Last year, MIT scientists used high ­speed cameras to record how the scent moves into the air. Their tests involved hundreds of experiments on many different surfaces. When a raindrop lands on a porous surface, air from the pores forms small bubbles which float to the surface and release aerosols. Such aerosols carry the scent. Raindrops that move at a slower rate tend to produce more aerosols; this serves as an explanation for why the petrichor is more common after light rains.
Some scientists believe that humans appreciate the rain scent because ancestors may have relied on rainy weather for survival.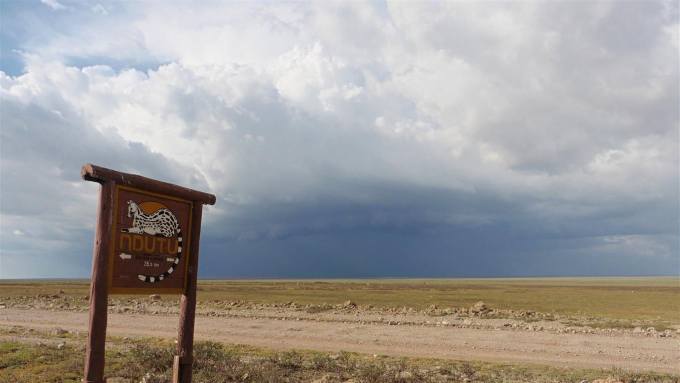 The following figures show this year's rain compared to last year. If you remember, the rainy season last year was almost non-existent and this year is looking so much better.
last season
this season
Nov 14
65.8mm
Nov 15
181.9mm
Dec 14
166.8mm
Dec 15
151.2mm
Jan 15
49.3mm
Jan 16
206.3mm
Feb 15
29.3mm
Feb 16
92.2mm
The great "wifi: to be or not to be" debate has been heard around the management table in recent months. Being in the bush, we have wanted to resist the trend, and offer guests a rare evening or two to disconnect from endless emails, status updates, news alerts, and to talk to each other, like it was 1993; to sit round the campfire and share stories of the day, look at the stars or listen to the early morning birdsong.
Sadly however, this is not the way of the modern world and we have relented. The change to the atmosphere around the campfire and in the lounge was instant, bringing on a sense of mourning for the "good old days".
However I do notice the positive spin-offs too, the free advertising when I read on Facebook (on my iPhone connected to the new wifi) that so-and-so has checked in at Ndutu Safari Lodge, and I know that word of mouth advertising is the very best of all.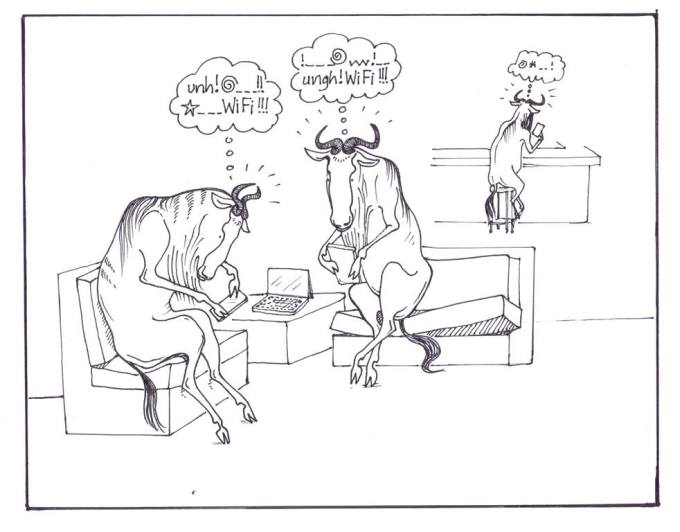 An Ndutu newsletter is not complete without a cat round up.
Where to start… The most well known of our prides are the Marsh Pride and Masek Pride, all of whom has flourished during this time of plenty.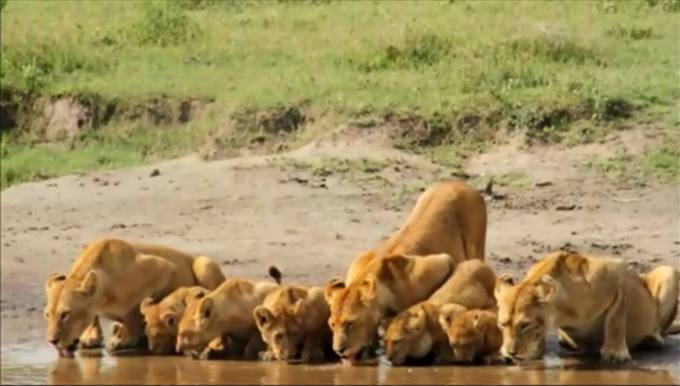 An interesting split happened in the Marsh pride about 18 months ago, with the arrival of The Greek Adoni of the lion world. Poor Selous and Katavi had no chance to hold the girls attention and so they departed to live at Masek, and Remus with his long blond locks and Romulus with his quirky forelock made their home in the Marsh. The interesting bit is that the marsh cubs were only about 8 months old when this happened, and would have been killed by the newcomers had Cassandra not taken them off to live out on the plains. Out there in splendid isolation, super Mum Cassandra managed to raise them all to adulthood, keeping them all alive through two dry seasons surrounded by Maasai and cattle.
Another amazing survival story is Nayomi (collared) and Nadine, living in Twin Hills Valley with their 6 cubs. This valley in the dry season, as the Maasai and cattle move in, becomes devoid of any wildlife and the only food to survive on is goat, sheep or cow. Catch them they did, which if course did nothing for lion / Maasai relations, but by careful hiding tactics during daylight hours, and timely intervention by the lion guardians they came through it.
The last time I saw them before Christmas, they were out in the open, climbing trees, relaxed and full of playfulness, as if they knew that it was a time of plenty and that for a while, they were safe. Maggie and Nosikitok of the Masek Pride, continue to live close to Lake Masek and Ndutu lodge, with their cubs growing well and strong.
Sadly, Selous (you will remember he chewed the end of his tail off) was killed by a Maasai spear in October, in retaliation for a donkey killing. Katavi is now alone, defending the Masek and Twin Hill Prides. How long he will be able to continue this alone is anybody's guess.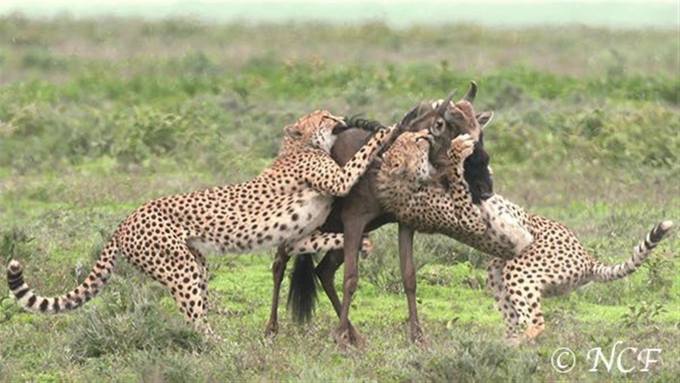 Cameraman Nick Ball captured this photo of a cheetah kill, showing the remarkable flexibility of the cheetah.Cheetahs also continue to be in abundance in the Ndutu area, except on the days when Dennis, Serengeti Cheetah Project, arrives to collect sightings. With help from our Facebook followers, several cheetah having reached adult hood have been named. All descendants of the amazing Eleanor, the names all started with "E" and I am most happy now to be able to say "Eva" instead of HON576! It rolls off the tongue much easier.
Ndutu Lodge has always been a place for photographers and filmmakers to gather and this year is no exception. Cheetahs were the focus for cameraman Nick Ball who has stayed at the lodge for a couple of months, and each evening we would look forward to viewing some of the day's footage. To watch a cheetah stalk, sprint and catch, in slow motion, seeing every muscle and sinew in detail, the intense concentration on the cheetah's face was breath-taking.
Throughout recent months we have enjoyed the comings and goings of the wildlife, and the days when they surround us, with no fear of our movements or noise, leave us thankful to live here. The zebra particularly proved to be fantastic lawnmowers, and diligently pruned branches and munched the grass, often accompanied by mutterings from the resident gardener!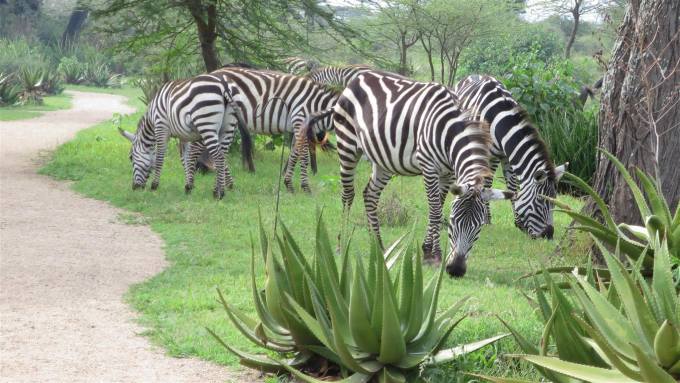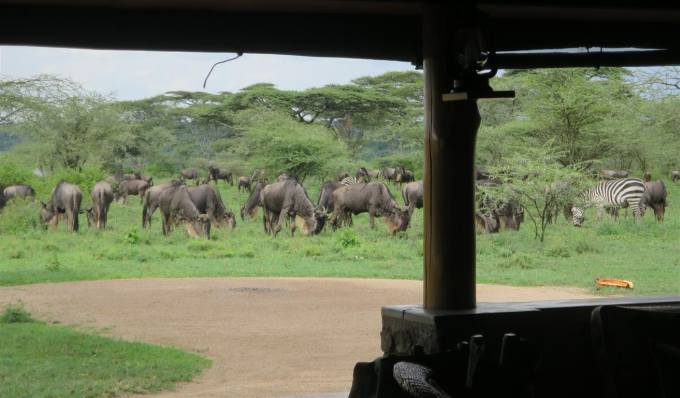 Now it is March, the rains are here again, the skies are dramatic with towering cumulus and purple storms, the landscape is lush and the grass long, small delicate flowers in every colour are appearing. We wonder where January and February went. High season has gone by in a blur, and we have yet again enjoyed meeting people from all over the world, enjoyed hearing of their lives far from here, and of how their visit to Tanzania has inspired them.
I took my laptop today to a secret corner, to write this newsletter uninterrupted. From the corner of my eye, I saw something fall… and upon investigating I found a newly dead dormouse lying on the path. Looking up, a Pearl Spotted owlet observed me with his big eyes, every so often turning his head to fool me with the two white rimmed black patches on the back of the head, which appear as false eyes. I wonder if he had inadvertently dropped his lunch?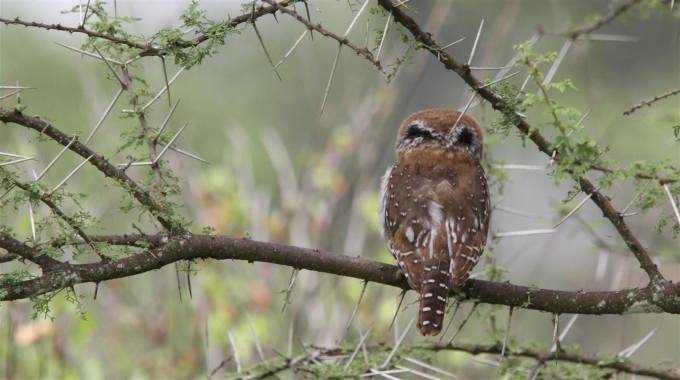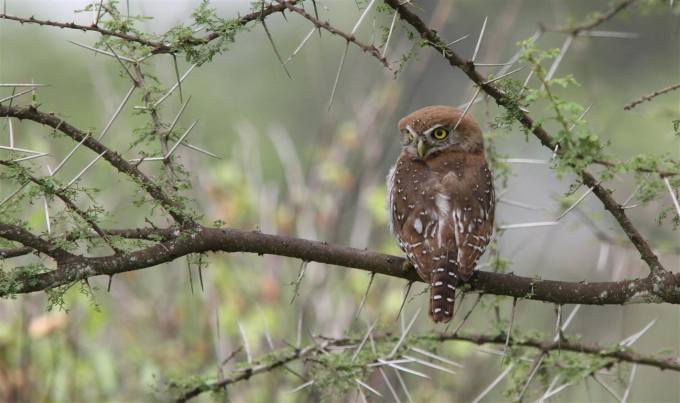 Until next time,
Ainslie, March 2016